Birds plentiful in Baldwin City area despite drought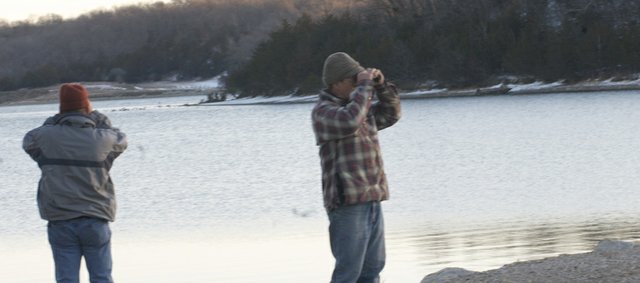 Standing Saturday morning on the west shore of Douglas County Lake, Joe Hoelcher couldn't identify the species of ducks on the water near the opposite shore.
"Those are decoys," said Bill Busby.
Hoelcher laughed at his mistake. The two men were at the lake as part of Saturday's Baldwin bird count, and Hoelcher had volunteered to learn from experienced birdwatchers like Busby, a hunter and a zoologist with Kansas Biological Survey at Kansas University.
The decoys signaled the presence of an unseen hunter, and that provided a clue to the lack of ducks on the lake, Busby said.
But ducks like water and the lake is attractive habitat, especially with marshland and farm ponds dried up from the drought. As the hunter went out on the lake to retrieve a downed bird, five ducks flew safely onto the lake from the north.
"They're hooded mergansers," Busby said while eyeing the birds with his binoculars. "Females on the right, and males on the left."
Busby said there would normally be 20 or more duck species on the lake. The hunter accounted for some of the low numbers, but Busby said the drought might have contributed to a dip in species at the lake.
On the eve of Saturday's count, Roger Boyd, Baker University biology professor emeritus and Baldwin bird count organizer was predicting there would be fewer birds and bird species spotted in this year's count because of the drought. With seed production down, almost all crops out of area fields and few acorns, migratory species of sparrows, finches and blackbirds that normally winter here would find more hospitable places stay, he said.
However, Baldwin bird count numbers indicate our feathered friends still like the lakes, woods and fields near Baldwin City.

Saturday's count identified 88 bird species, more than the about 85 Boyd was predicting before the count. That was two less than the record 90 spotted in 2011 and significantly higher than the 10-year average of 79.
The Baldwin bird population was estimated to be from 10,000 to 15,000, or about average, Boyd said.
"It was a good count and only a few species that we usually get were missing," he said. "We have more duck species than normal."
The absence of acorns explained for the count's low number of red-headed woodpeckers, Boyd said.
The Baldwin bird count is one of more than 2,000 conducted for the National Audubon Society from Dec. 14 through Jan. 4 nationwide, Boyd said. The Baldwin City count is done in a circle, which encompasses a territory within a 7.5-mile radius of Baldwin Junction. It includes Douglas County State Lake and Lone Star Lake, the Baldwin Woods, farmland and pastures.
This was the 71st year for the Baldwin bird count, which Boyd's parents, Ivan and Margaret Boyd, started in 1941, the year his father stated teaching biology at Baker University.
"It's the oldest continuous bird count in the state," Boyd said. "There are others that are older, but they missed a year somewhere."
The first bird counts were conducted in 1900 in response to an older tradition of hunter outings.
"People would go out on Christmas Day to see how many birds they could shoot," Boyd said. "In reaction to that, conservationists decided to go out and see how many birds they could see."
About 15 volunteers participated in this year's Baldwin count, Boyd said. Some, like Busby and Hoelcher, drove routes in different sections of the circle, while others staked cedar groves.
The most numerous species in Saturday's count was Canada geese, with 2,504 counted, Boyd said.
Lone Star provided the count with its nicest surprise. Four trumpeter swans were counted at the lake. It was the fourth-straight years swans were reported there and the second-greatest number since seven were spotted four years ago, he said.
"Apparently, they are increasing their numbers around Kansas and Missouri," he said.