Defense key Baldwin girls win against rival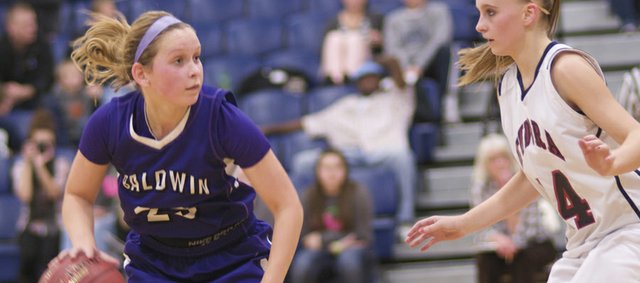 The Baldwin High School girls defense in the first and final quarters proved the difference in its contest Tuesday against rival Eudora.
The girls won their first Frontier League road game, 36-26.
Baldwin (4-2), which limited the Cardinals to just three points in the opening quarter, led at the end of the first period, 7-3. The two teams then played even the next two periods before the Bulldogs held Eudora to five point in the final eight minutes, while putting up 11 points of its own.
"Defensively, they played pretty well," Bulldog coach Bob Martin said. "We rebounded pretty well. Those two things allowed us to overcome our difficulties on offense.
"Defense and rebounding are keeping us in games. Our offense is still a work in progress."
Although the Bulldogs shut down the Cardinals out of the gate, they found scoring points equally challenging. The Bulldogs first basket came nearly three minutes into the game when, perhaps predictably, senior forward Jessie Katzer rebounded a missed layup, which was setup by a defensive steal. The Bulldogs then scored 10 of the contest's next 11 points, building a 12-3 lead early in the second quarter
The Bulldogs would maintain a four- to nine-point cushion throughout the second and third quarters but could never quite put the home team away. Eudora entered the final period down, 25-21, and closed to within three points, 29-26, with four minutes remaining in the game.
That would prove to be as close as Eudora got. The Bulldogs, meanwhile, would tally the contest's last seven points after forcing Eudora out of its zone in the game's waning minutes. Four of those points were off junior guard Katie Jones' aggressive drives to the basket or into the lane.
The victory evened Baldwin's record to 1-1 in the Frontier League and allowed the team to go into the Christmas break on a positive note. It won't play again until a home contest Jan. 4 against Louisburg, a team Baldwin beat in the Bulldog-Wildcat Classic.
Martin said the team would use the break to work on its offensive.
"I think some of it is the teams we've played," he said. "I think we'll get better. How good we are on offense will determine how good a team we will be."
Baldwin 36, Eudora 26
Baldwin (4-2) 7 10 8 11 — 36
Eudora 3 10 8 5 — 26
Baldwin:
Eudora: McKenzie Oller 3, Danelle Topil 6, Abby Richeson 3, Makaila Garcia 2, Allie Webb 7. Madison Maring 2
Baldwin: Kelsey Dighans 2, Maddie Ogle 1, Katie Jones 8, Kailyn Smith 9, Jessie Katzer 6, Katie Kehl 7, Hailey Cope 3.