Bulldog boys rout rival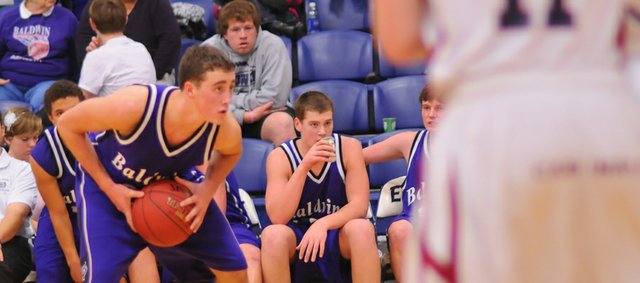 Eudora — The Baldwin Bulldogs played what their coach said was their best game of the year Tuesday in defeating rival Eudora, 55-35.
Coach Dustin Leochner was happy with all aspects of his team's play, which improved to 4-2 overall and 1-1 in the Frontier League.
"We challenged them to have less than 10 turnovers," the coach said. "I don't know how many they had, but it couldn't have been much more than that. We wanted them to be patient in the half-court offense and make the opponent defend. And we did just that. We got good shots.
"Now we have to play with unselfishness and composure in a close game."
A key to the game, Leochner said, was junior Luke Fursman's matchup against Eudora's junior star Andrew Ballock.
"He's one of the top players in the Frontier League," Leochner said. "We were hoping Luke could match up well with him. They are about the same height and build. And he did. Luke did a fantastic job on him."
Fursman scored 11 points to Ballock's nine. But it was a team effort. On one sequence, Baldwin's big men twice blocked Ballock's shots at the rim after he received an inbounds pass in the lane.
"We frustrated him," Leochner said.
Baldwin led nearly from tipoff, and held a six-point lead at halftime. Behind juniors Cornell Brown, who scored 10 of his team-high 14 points in the second half, and Fursman, Baldwin put the Frontier League contest away early in the fourth quarter.
The Bulldogs removed any suspense from the game by scoring the first seven points of the fourth quarter. Junior guard Tim Craig ended the run with a 3-pointer, which gave Baldwin a 45-28 lead with 4:42 to play.
The team will have half a month off for the holiday break before a Jan. 4 home contest against Frontier League foe Louisburg, which beat the Bulldogs earlier this month in the finals of the Bulldog-Wildcat Classic.
Leochner said the team would work on one critical area during the break.
"Scouting the league, Frontier League teams are such good rebounding teams," he said. "We are going to have to up our game in that area."
Baldwin 55, Eudora 35
Baldwin (4-2) 12 12 14 17 — 55
Eudora (3-4) 10 8 10 7 — 35
Eudora: Andrew Ballock 9, Tyler Hadl 2, Zack Scroggin 8, Nick Becker 16
Baldwin: Tim Craig 8, Cornell Brown 14, Luke Fursman 11, Colton Stark 4, Caleb Gaylord 8, Quinn Twombly 6, Christian Gaylord 4.