Diversity day make yearlong difference at Baldwin High School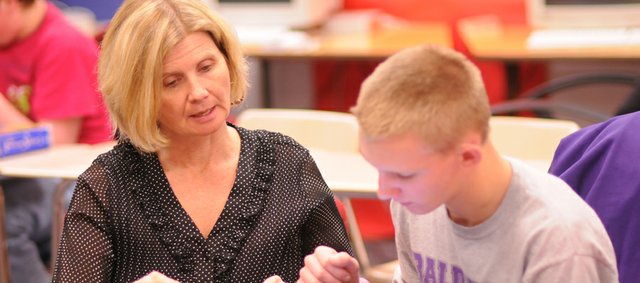 Austin Quick has something more than his studies to keep him busy this year at Baldwin High School.
"I directed the organizing and ordering for Mardi Gras this year," the high school junior said. "It's the first year I've participated. I'm good at organizing for teachers."
The event Quick is helping organize is Baldwin High School's sixth annual Mardi Gras Diversity Day. Among other duties, Quick is filling out order forms for beads and other Mardi Gras items to make the day properly festive for Baldwin High School students with disabilities and those who will join them from Free State, Lawrence, Eudora, De Soto, Ottawa, Spring Hill and Wellsville high schools.
The day-long celebration of diversity will be on Jan. 24. The event will include an all-school assembly in the morning, a New Orleans meal for the day's guests prepared by the high school's culinary team, an afternoon of crafts and games and conclude with a parade accompanied by "When the Saints Go Marching In" through the high school corridors.
The day is meant to increase awareness of students with disabilities, but it also succeeds in changing attitudes in the school on an everyday basis, said Baldwin High School special education teacher Laura Beaulieu, who sponsors the event with the school's transition coordinator, Sheila Vander Tuig.
"That's the goal," Beaulieu said. "We want students at Baldwin High School to know people with disabilities can accomplish many things and when they are future colleagues or employers, to give people with disabilities a chance and not back away because they don't know how to interact with them."
Beaulieu started the event five years ago as a way to honor her parents.
"Both my parents were strong advocates of people with disabilities," she said. "My older sister had mild cerebral palsy. She came along just before there was special education, so my parents went in to meet teachers and said, 'This is what we have to do this year.'"
The annual event highlights a different disability each year and in the past featured a wheelchair basketball game and a presentation on visual impairment. This year, the focus is on Down syndrome.
A 15-minute documentary film by the company Just Like You will be shown at the assembly. It features a cheerleader from De Soto with Down syndrome and a St. James Academy basketball player. There will also be a speaker from Down Syndrome Guild of Greater Kansas City, who has a family member with Down Syndrome.
As the event has grown, Beaulieu and Vander Tuig have had to depend on more and more students to help during the day of the event and its organization.
Baldwin High School Principal Rob McKim said that, too, has helped break down walls at the school.
"It's a big undertaking," he said. "A lot of our kids help in some way. I think it is true of all of us that the more you are around people different than yourself, the more you are aware of them and respect them as individuals. It helps you to grow as an individual."
Beaulieu said because many of the school's leaders are often involved in other activities, she frequently depends on students who don't go out for sports or take part in other activities.
"It's a niche that catches different kids," she said. "It's a great leadership opportunity for some because I do everything by committee," she said. "I say, 'OK, you are my co-chair. Now, you do the work.'"
The event's success has caught the attention of others. Last spring, the diversity day earned Baldwin High School the designation of School of Character from the Kansas Department of Education. The state alerted the Character Education Partnership of the program and this fall that organization selected the diversity day as a Promising Practice other schools should follow.
The recognition is nice but Beaulieu finds more rewarding the changes she witnesses at the school.
"It gives students a little extra push to reach out," she said. "I think other people, looking from the outside might think it's only a one-day event, but for the kids who participate, it's one of the best things they've done."