Sewer district assessments on Baldwin City Council's agenda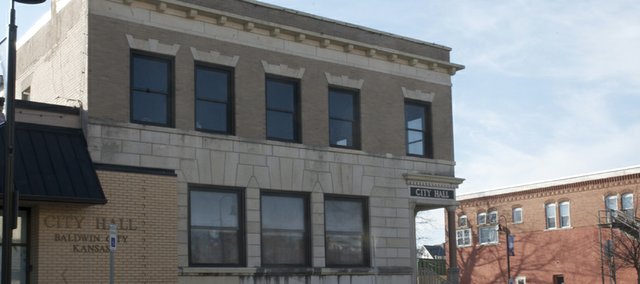 The Baldwin City Council will consider at its meeting Monday a first reading of a measure assigning assessments to 10 property owners in the North Sixth Street sewer benefit district.
The sewer installation was completed this spring in conjunction with the first phase of the reconstruction of Sixth Street from U.S. Highway 56 to Douglas County Route 12. It was financed with the city's first-ever benefit district.
The $155,000 to be assessed includes $137,362.35 in construction costs, $6,868.12 to administer the bond financing and $10,769.53 bond issuance cost. The total is to be split 12 ways with the city taking shares. The cost to the 10 benefitting property owners is to be $12,927 each. The city paid for the project's engineering cost.
The council will also set a date for a public hearing on the assessment. The council will take final action on the assessments after that hearing.
The $155,000 for the sewer improvements is to be part of a $7.5 million bond issue that will bid in late January or February of next year. The bond will also include refinancing of water and sewer infrastructure debts and the city's portion of the Sixth Street project.
The meetings starts at 7:30 p.m. Monday at the American Legion Hall, 803 High St.
The complete agenda:
Call to Order: Mayor Ken Wagner

II. Consent Agenda: (All matters listed on the Consent Agenda are to be considered under one motion and will be enacted by one motion.

There is to be no separate discussion on any Consent Agenda Item. If discussion is desired by an elected official of the City on any Consent

Agenda item, then that item will be removed from the Consent Agenda and considered separately).

A. Consider the draft minutes of the December 3, 2012 Regular Meeting.

B. Consider Appropriation Ordinance No. 2012‐12B: claims against the City for goods provided and

services rendered.

III. Committee/Commission Reports

Community Development Committee Report: Bonnie Plumberg

IV. Special Reports or Presentations

Brad Smith, Fiscal Year 2012 financial update
VI. New Business

A. Consider Phase 1 Assessment documents, actions and set public hearing. (Chris Lowe)

B. Consider for first reading an Ordinance Levying Special Assessments on certain property to pay the

costs of internal improvements in the City of Baldwin City, Kansas. (Chris Lowe)


C. Consider approval of commitment of funds to Kansas Sculptors Association for community art

project. (Chris Lowe)

D. Consider authorization of Mayor to execute agreement with the Secretary of Transportation of the

State of Kansas for engineering services associated with O'Connell Road Water Line. (Chris Lowe)

E. Consider authorization of Mayor to execute Utility Agreement with Rural Water District No. 4, City

of Lawrence and the State of Kansas. (Chris Lowe)

VII. Public Comments and Questions

VIII. Discussion Items from Council Members or Staff (items not for action at this time)

Discussion of possible KDOT Transportation Enhancement (TE) Depot Renovation Project (Chris Lowe)

IX. Schedule & Announcements

A. Community Development Committee: 4pm January 14 at City Hall

X. Executive Session

XI. Adjourn