Baldwin's Valentine taking skills to K-State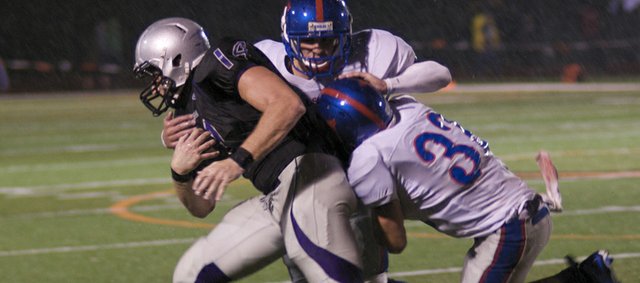 Baldwin High School senior Dayton Valentine made a decision this weekend that could determine where he will spend the next six years of his life.
Valentine committed to coach Bill Snyder's Kansas State Wildcats after taking an official visit to Kansas State last weekend.
"It was my biggest offer, and they are pretty good," he said. "It's like a dream school.
"I'm kind of a Bill Snyder small-town Kansas kid who didn't have a lot of looks, but K-State believed in me more than other schools."
Valentine will go to the Manhattan campus as a greyshirt, which will give him an extra year to develop. Greyshirt signees delay their full-time enrollment at the schools of the choice so that the eligibility clock doesn't start ticking until the spring semester.
"I'll workout with the team this summer," he said. "I can only enroll in 12 hours next fall. I can't be affiliated with the team in the fall, or I'll lose a semester of eligibility. Beginning January of 2014, I'll have a full-ride scholarship.
"I'll workout next fall with other greyshirts, doing the K-State workout. I can't use their facilities, but I'll get free Nike gear and get tickets to games."
Although greyshirts must pay their own way for their first part-time semester, they can gain an extra semester of full-ride scholarship eligibility. Those who accept redshirts can receive five-and-a-half years of full-ride scholarships.
Baldwin High School coach Mike Berg said the four-year Bulldog starter embodies a key part of Snyder's coaching philosophy of getting better every day.
Always coachable and blessed with a quick first step there were times Valentine was outmuscled as a freshman, Berg said. Since then, he's worked out two or three times a day to remake his body into that of a Division 1 athlete, the Bulldog coach said.
"There were times when he was told that he wasn't tall enough or that he wasn't fast enough, but he didn't listen and he just kept working to get better," Berg said. "Dayton is one of the most dedicated and 100-percent committed athletes I've ever had the pleasure to coach. He never settled for second best. He always strived to be the best in the classroom and on the football field and in every phase of his life. Kansas State is getting the best.
"He's the strongest and most explosive kid I've ever coached, and that includes players I've coached in college."
Valentine came to the attention of Wildcat coaches when he attended a weeklong skills camp at the school the summer before his junior year. He was invited back this summer to a one-day camp of those players the team had an interest in recruiting.
In the past year, Valentine has been building his athletic resume. Last spring, he won 4A state titles in the discus and shot put. He consistently threw the shot more than 55 feet, establishing himself as the second-best athlete in the event in Kansas behind departed senior Blake Hocking of Lawrence High School.
He followed up this fall with All -Frontier League recognition on offense and defense. At tight end, he caught 16 passes for 309 yards and two touchdowns. From his defensive end position, he was in on 45 solo tackles, assisted on 16 more, had eight tackles for loss, recorded four sacks, tipped five passes, caused four fumbles and recovered three fumbles.
His track accomplishments drew recruiting attention from Kentucky, Stanford and Nebraska, whose coaches paid him an in-home visit. But Valentine said football was his favorite sport and its scholarships worth more.
Kansas University showed some interest in his football talents, bringing him in for a visit his junior year and again for its game against Oklahoma State this fall, but Kansas State was his only FBS offer, Valentine said.
The Kansas State staff is looking at him as a tight end and fullback, Valentine said.
"I played (fullback) quite a bit this year," he said. "I did some different things and moved around."
Valentine said he wasn't sure what he would study in college but was interested in kinesiology. That's not the only uncertainty he faces as he heads to school with a 73-year-old head coach who just led his team to the Big 12 championship.
"It would be nice if I knew for sure coach Snyder would be there in six years, but at the same time K-State and the whole atmosphere is where I want to be," he said.