Baldwin City area Methodists embody founder's message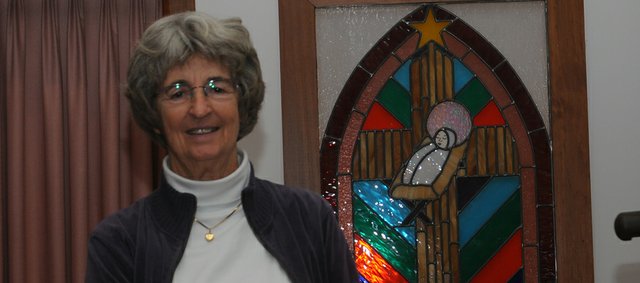 When Shirley Edgerton, pastor of Vinland United Methodist Church, stands in her ornate pulpit on Sunday mornings, she feels as though she is literally preaching to the choir.
Edgerton's congregation is filled with active members who spread Methodist values through outreach across the Vinland and Baldwin City area, but these traditions of service are not uncommon within the community.
"In most church settings, you figure if 10 percent of the congregation participates in a small-group activity, you are doing really well," Edgerton said. "But we have close to 60 percent or more who participate in the small groups, which is just a phenomenal thing."
Vinland UMC is one of four United Methodist churches with a Baldwin City address, and members of these congregations have helped shape the town into the place it is today.
The community's Methodist roots can be traced back to 1855 when the Baldwin First United Methodist church was organized. Three years later, a group of ministers would strengthen the Methodist tradition even further, when they founded Baker University.
Since then, Ives Chapel UMC, Worden UMC and Vinland have also been built within a 15-minute drive from campus.
During the first three years of Baldwin First UMC's organization, services were held in settlers' cabins. But after Baker's founding, the congregation worshipped in campus buildings for the next 46 years.
After a fire destroyed the congregation's original building in 1930, the first services were held in the current structure, 704 8th St., in 1932.
With this new building, the congregation would continue to keep close ties with Baker as the church housed the university music program for 35 years.
"Methodism has a long, rich history," said Paul Babcock, pastor of Baldwin First UMC. "Our history is tied to the university's history, which is tied to the town's history."
In 1904, the community's roots of Methodism continued to evolve as a local farmer saw the need for a rural church where he could worship right off the farm. Ives Chapel was chartered behind this inspiration and its congregation continues to serve the Baldwin City community.
The pastor of Ives Chapel Jacob Cloud, who was been the clergy there since 2009, said the congregation continued to embody the ideals of Methodism through its ministries.
"Methodism began with John Wesley saying 'It's not just about personal holiness but social holiness. It's about what we do and what we say,'" Cloud said. "So we believe that's critical and I think the town has really embodied that."
Although their churches were built outside of the Baldwin city limits, Worden UMC and Vinland UMC participate in outreach ministries that impact the community through contributing to the Baldwin Community Emergency Relief Fund, fundraisers for local nonprofit organizations, among may other charities.
The local Methodist influence has also allowed Baker to hold onto its Methodist affiliation and the campus has served as a meeting place for many conferences to gather.
University Minister Ira DeSpain said when the organizing trustees and the Methodist conference gathered to establish Baker, they were committed to founding the one great university in Kansas, and he believes those values are still strong among those tied of the university.
"Methodism always believes that spirituality and intellect go hand-in-hand, and we still believe that I think as a school," DeSpain said.
The mission of the United Methodist Church is to "make disciples of Jesus Christ for the transformation of the world," which is something many members in the Baldwin City community have been committed to since its beginning in 1855.
"The hands are working at the same time," Cloud said. "We are not just standing on the street telling people what we think, but putting our words into action."