Baker student signs on for Peace Corps tour after graduation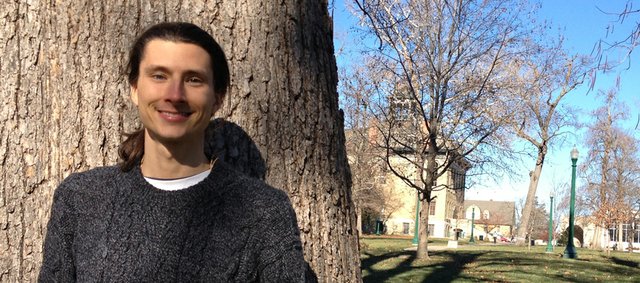 Baker University senior Sam Beecher grew up in Baldwin City and has spent most of his life in the community, but come February, the sociology major and soon-to-be-graduate will travel to Zambia, Africa, to work for the Peace Corps.
Beecher began attending Baker in fall 2009 and since then, like many college students, he has gone through changes. Growing up, Beecher was involved in athletics, but as he started taking classes at Baker his interests shifted from sports to academics.
"I've always been a passionate and motivated person, but what I was passionate about and motivated about was starting to change," Beecher said.
The summer before his sophomore year of college, Beecher began practicing yoga instead of going to the weight room, and he became more interested in social and environmental issues.
He also moved back home that year, and is grateful for the opportunity to think of his parents not only as his mom and dad, but also as his close friends.
"It allowed me to form a relationship with my parents that was more of a friendship," Beecher said. "A lot of times, as adults, we don't get the chance to live with our parents as our best friends, and I think that's something we miss out on."
Living at home also allowed Beecher to feel more comfortable with who he was and the person he was becoming.
Although Beecher's transformation didn't happen overnight, the climactic point for him was an unexpected conversation with a stranger during his semester abroad in New Zealand. Instead of traveling with friends during spring break, Beecher decided to travel alone and hitchhiked 2,000 miles up the east coast of the southern island of New Zealand. On the return trip, a 65-year-old man named Tokowha picked Beecher up. Tokowha is a native of New Zealand and owns a farm. He has built shelters and hospitals and has adopted children from around the world. He and Beecher were in deep conversation almost instantly.
"It felt like he was speaking to me in parables," Beecher said.
Tokowha was raised by his grandfather, who taught him the ways of the Maori, the indigenous people of New Zealand. During that car ride, Tokowha attempted to pass what he had learned from his grandfather on to Beecher.
"I feel like that knowledge he gave me was sacred and I feel like it was my duty to use it to create a better world and to be a servant of the people and that inspired me to become active in social justice and environmental issues of the people," Beecher said.
When Beecher returned to the United States, he put his newfound knowledge to work. He does his best to lead an environmentally friendly and sustainable lifestyle and encourages others to do the same. He formed the campus organization Baker Farm Hands, a club dedicated to "building healthy, sustainable and environmentally friendly relationships between Baker University and Douglas County Farms."
As a member of the Peace Corps, Beecher will be a part of the LIFE (Linking Income Food and the Environment) program, which encourages farmers to incorporate perennial plants into their farming. He will also help with HIV/AIDS education, environmental education and gender inequality concerns.
Beecher is excited to focus on issues he is interested in, share his knowledge with others and is hopeful he'll be able to make a lasting impact during his time in Zambia.
"I'm looking forward to learning from them (the people of Zambia)," Beecher said. "I'm hoping it's a reciprocal relationship where I can give them something of value because I know they'll give me many things of value."
Baker University's winter commencement ceremony for undergraduates is scheduled for 1 p.m. Sunday in Collins Center, at the corner of Sixth and Fremont Streets in Baldwin.