Downtown Baldwin City dressed up for Festival of Lights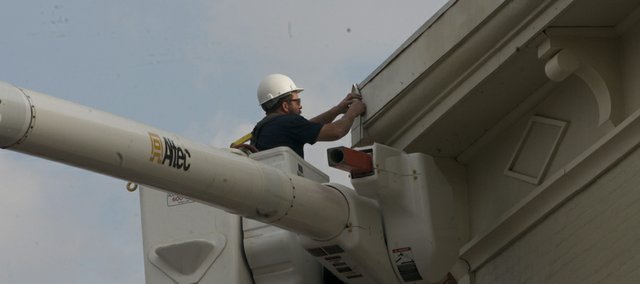 Chris Croucher isn't into Christmas decorations.
"I don't even put lights up at my own house," he said.
But this past week, the head linesman for the city's electrical distribution system has been busy working to give Baldwin City a new holiday season look, stringing $8,500 worth of newly acquired lights along downtown businesses.
Festival of lights schedule
Christkindlmarkt, downtown stores open for shopping, 5 p.m. A Christkindlmarkt is a street market associated with the celebration of Christmas during the four weeks of Advent. This popular and celebrated German tradition features handmade arts and crafts and other gifts, and family-friendly, German and holiday-themed entertainment.
Festival of Lights Parade, Eighth and High Streets, begins 6 p.m.
Tree lighting ceremony, west of Post Office at the conclusion of the Parade.
Santa pictures and hot chocolate following the tree lighting.
In October, the Baldwin City Council approved purchase of the lights that are to outline the facades of downtown businesses. The green LED lights can now be seen on City Hall and the adjoining police station and will be lit all along High and Eighth streets at Saturday's Festival of Lights.
Putting up the lights will be a one-time job for Croucher. They are to stay up all year to spare them wear-and-tear and the city the expense of annual installation and removal.
That's OK with Croucher, who said he found the job "boring" and prefers what may seem like one of his job's down sides: the late-night calls to restore power.
"I like the challenge of doing something other people can't," said Croucher, who has worked as a lineman for the city for 18 years. "We work everything hot. You have to have concentration."
As Croucher worked Monday with the help of ground assistant Toby Aquirre, carefully finding secure places to anchor the lights on century-old storefronts on the south side of the 800 block of High Street, he had a grand view of the community Christmas tree just north of the post office. The cedar tree reaches to about the same height as his perch from lift basket.
Croucher had a hand in the tree, too. His wife Amanda's parents, Bud and Becky Brown, donated the tree from their property after Croucher found the one City Administrator Chris Lowe acquired inadequate.
"Chris (Croucher) decided the one I picked out was Charlie Brown level," Lowe said.
The new tree requires 24 strands of lights and will be lighted for the first time at Saturday's festival.
The tree area will also be decorated with free-standing adornments purchased with some of the remaining $10,000 the City Council authorized for holiday lights, Lowe said. Those will be joined by a green-and-yellow tractor Mayor Ken Wagner donated.
The reluctant decorator Croucher has one more holiday project ahead of him when he finishes installing the downtown lights. He will, he said, decorate the bucket truck so that his 8-year-old twins, Garrett and Grace, can ride in the Festival of Lights parade.
"We're going to light it up, but I don't know how yet," he said.