Baldwin City man has 32 years experience spreading Santa's message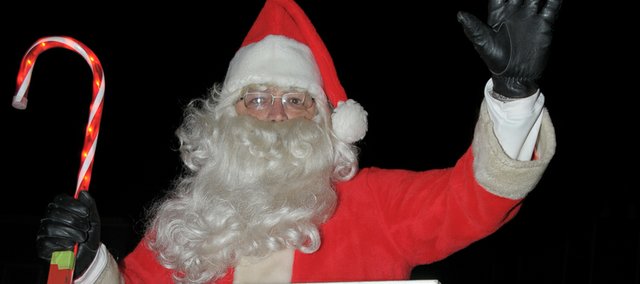 Gary Browne says he often gets stares while eating in restaurants.
At 6 feet 8 inches, Browne is an arresting presence. But it's not his height that captures the attention of gaping youngsters. It's Browne's long white hair, full white beard and wire-rim glasses.
Adults who still don't grasp the children's fascination can get a clue by looking at the rear of the retired antique dealer's pickup.
"I live Santa every day," Browne said. "Even the tag on my truck says 'SANTA.'"
For 32 years — long enough to go through four red, fur-trimmed suits — Browne has assumed the role of Santa Claus. During that time, the longtime Baldwin City resident who now lives south of the city has been a regular at the Baldwin Festival of Lights and its predecessors, arriving each year for the tree-lighting ceremony in an antique fire truck driven by his friend, Baldwin City Fire Chief Allen Craig. Browne took over the job when asked by retiring Santa, Richard Brown.
He was a natural, even when he started in his mid-30s with prematurely white hair and a salt-and-pepper beard, Browne said. He did wear fake wire-rims rather than the prescription lens he sports now, but he always had the proper attitude.
"I've always loved doing it, and I've always believed in the spirit of loving and giving," he said. "My life's pretty happy, but I always look forward to Christmas. I start to get excited in October."
He now pumps up the fantasy with a fake white beard to cover his own impressive full beard.
"I had a big full beard for a while when I was single," he said. "My wife keeps me in check."
Browne stays busy during the Yule season, doing 25 to 50 different appearances for civic organizations, Scouts, hospitals, nursing homes and special visits to ill children. But you won't find him at a mall or department store earning a check as Santa.
"I don't do it for money; I do it for the goodness of doing it" he said. "People have paid me through the years. I always give it to charity."
The opportunity to assume Santa's identity has provided some memorable experiences, Browne said.
"One year, there was a fire on the northeast side of town right at the time of the Christmas lighting," he said. "A family lost all their belongings and gifts. I rode over there in the antique fire truck. I told them Santa would take care of them and they wouldn't be forgotten. And they did have a wonderful Christmas.
"It was a wonderful ending to a bad situation."
Those kinds of experiences are very satisfying, and Browne knows others who have adopted the Santa persona, complete with beards and glasses, because of the rewards.
"There's several of us out there," he said. "I have a friend in Topeka who has the tag TOYMAKER. They're all a little jealous of my tag."
You can't do the job without affection for children, as Browne does despite the occasional beard tugs and sometimes unrealistic gift requests.
"Children can ask for some pretty outrageous things," he said. "The only thing I promise them is a merry Christmas."
He deals with children who think they have outgrown Santa Claus with the same message he shares with adults who have that attitude, because in his view everyone's a child compared with Santa.
"I try to get kids to understand if you don't believe, you don't receive," he said. "I believe in my heart everybody believes in Santa. Strictly speaking, the spirit of Christmas is giving and being a good person."