Baldwin girls dig out of early hole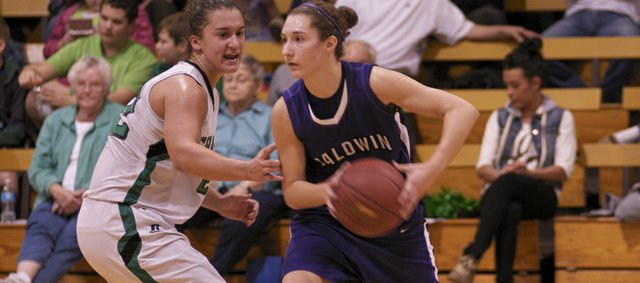 Winchester — The Baldwin High School girls fought back from a large early deficit Friday, defeating defending 2A state champions Jefferson County North, 56-43, in the season opener for both teams.
Jefferson County took an 18-2 lead just past the midway point of the first quarter behind junior Jacee Kramer, who score 11 of her game-high 21 points in the opening period.
Baldwin was able to chip away at the lead, taking its first lead, 39-38, on a basket by junior Katie Jones with 40 seconds to play in the third quarter. Senior Kailyn Smith, who led Baldwin in scoring with 18 points, scored five-straight points on a 3-pointer and two free throws, putting the Bulldogs up, 47-40, with 2:50 remaining in the game.
"We got back in it with defense," Baldwin coach Bob Martin said. "They have one super player. We were able to control her. That got us back into the game.
Baldwin (1-0) - 6 17 12 21 - 56
Jeff County North (0-1) - 18 9 7 9 - 43
Baldwin: Alexia Stein 2, Kaitlin Jorgensen 3, Kailyn Smith 18, Jessie Katzer 7, Katie Kehl 4, Hailey Cope 9, Katie Jones 13
Jeff County North: Kymee North 4, Heather Polson 2, Mallory Kramer 9, Jacee Kramer 21, Jamie Navinskey 7