Baldwin City's Midland Railway to host Railfest this weekend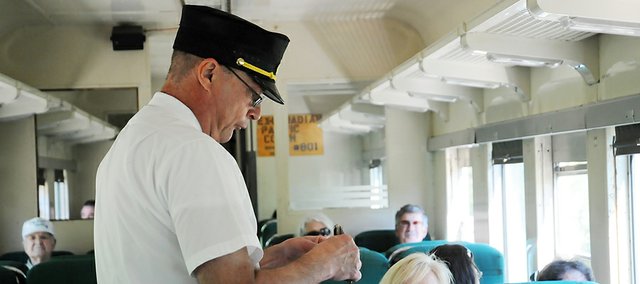 Midland Railway is inviting passengers to take a ride back in time on Kansas' oldest railroad south of the Kansas River as the railway celebrates Railfest 2012 during Labor Day weekend at the Sante Fe Depot, 1515 High St., in Baldwin City.
Railfest will include a variety of train engines to show passengers what train travel during the "golden ages" of railroad was like.
As part of Midland Railway's 25th anniversary celebration, the railway is bringing in "Sadie," a 1931 coal-fired steam locomotive, to power excursion trains three times a day during Railfest. The steam excursions will take passengers on an 11-mile round trip from Baldwin City to Norwood.
Passengers can also take the 22-mile round trip from Baldwin City to Ottawa Junction on a diesel-powered engine or take locomotive cab rides and motorcar rides.
The ex-Kansas City Southern Railroad Post Office Car #30 will be on-site for visitors to learn about mail delivery over railroads as well. There will be retired RPO clerks aboard the former mail car to explain how it operated and what went into the mail sorting and delivering.
The Railroadiana show and sale, which will feature railroad artifacts and collectibles from former famous rail lines, will be from 9 a.m. to 4 p.m. Sunday and Monday.
Guests looking to do more than take a ride on the trains can also try their hand "at the throttle." Midland Railway is offering participants a chance to operate the steam engine for 30-minutes. Although an engineer will be in the cab at all times, participants will be able to experience working a rail yard and running the steam engine.
Midland Railway Railfest will begin at 9 a.m. Saturday, Sunday and Monday with the final excursion train departing at 3 p.m.
Ticket costs range from $5 for a motorcar ride to $150 for an At the Throttle session. Admission to Railroadiana is $5 or free with any train ride ticket.
For more detailed ticket information about train times and ticket costs during Railfest 2012, visit www.midland-ry.org