Baldwin City plugs into expertise to navigate energy market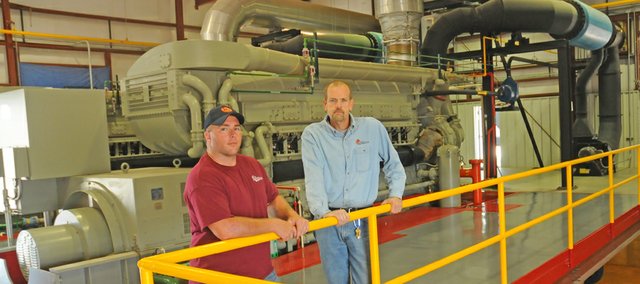 On summer mornings, Rob Culley can get a good idea about the day ahead by monitoring a computer screen at the Baldwin City power plant.
The screen, which tracks the availability and demand for electrical power, provides the Baldwin City power plant manager a portal into the electrical power commodity market.
On most days, Baldwin City purchases electric power for city customers because it can buy power cheaper than it can generate it.
However, there are days, particularly in the heat of the summer, when demand sucks up the available supply of cheap power, forcing the city to crank up the two 4,400-horsepower generators at the plant south of Orange Street.
The factors that go into that decision are complex and require knowledge of the market and constant monitoring, Culley said. The decision takes into account not only what power suppliers have available but its cost and whether the power can reach Baldwin City, especially on days with a lot of juice flowing through and heating up multiple switches.
Another consideration is the electricity Baldwin City has available in its electrical power portfolio, which includes long-term agreements with Grand River Dam Authority in Oklahoma for 3 megawatts an hour, the Nearman BPU coal plant in Kansas City, Kan., for 2.5 megawatts an hour scheduled as needed and smaller amounts of hydroelectric power from Southwest Power Administration and Western Area Power Administration.
Although Culley can get a good feel for whether his plant will have to produce power on a given day by watching the computer screen, that decision is tasked to Rainbow Energy Marketing Corporation. It is contracted to make the decision by Energy Management Project No. 1, a five-city partnership of Baldwin City, Gardner, Garnett, Osawatomie and Ottawa.

The EMP sets monthly goals meant to minimize Kansas City Power and Light's peak demand charge of $8,000 per megawatt. That, too, plays into the decision of when to produce in-house power.
When the decision is made to generate power, Baldwin City's two generators at the new power plant, which became operable in 2003, are the first in the five cities to be turned on because they are the most efficient. Although the electricity they produce never leaves the city, the other cities in the partnership compensate Baldwin City for fuel, overtime and other operating costs because they benefit from a reduced peak demand charge.
Although it gives the cities some flexibility in managing peak demand, the partnership's real advantage is the greater purchasing power it gives the group, Culley said.
"It gives us more bang for our buck," he said. "We can go out on the open market to buy energy in a block. The five cities could buy a total of 50 megawatts in a given hour when Baldwin would only need 5 megawatts. When you buy a big chunk of power, then you're a real player. Rainbow is able to make those transactions.
'It's great to have skilled, experienced people like that working for you. I don't know how small cities would make it without organizational help to guide them. The wholesale energy market is changing so rapidly."
When the five cities formed Energy Management Group No. 1 in 2005, it was the first of its kind. Since then, others were created in Kansas as cities realized they had to change to survive the power game.
A key to the partnership's success is that all members have equal voting rights and voice no matter their electrical power consumption of production capacity, Culley said.
"When we first met, I didn't think we would be able to agree on what to order for lunch," Culley said. "But we've never had a substantial disagreement."