Baldwin City North Sixth Street project's third and last phase to start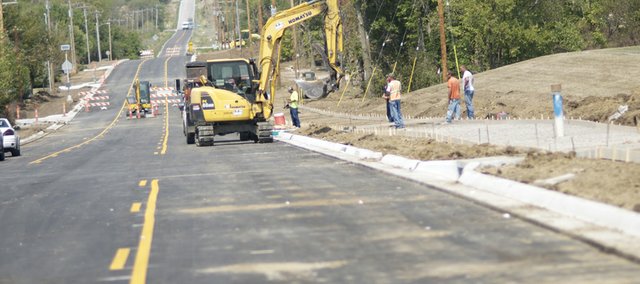 The barricades on the North Sixth Street project are about to be moved as work starts on the project's third and final stage.
Contractor R.D. Johnson Construction is adding a turn lane and curb and guttering to Sixth Street, which is also County Road 1055, from U.S. Highway 56 to County Road 12. Douglas County and Baldwin City are sharing the cost of the $2.18 million street upgrades with Baldwin City adding sidewalks for another $185,000.
Keith Browning, Douglas County public works director, said the only work remaining on the project's second phase, which made the improvements from Firetree Avenue to the western leg of North 400 Road, was construction of sidewalks. Barricades were to be moved Tuesday and the section will then be open only to local traffic.
The final stage will close Sixth Street from about 100 feet south of the western leg of North 400 Road north to County Road 12.
The official detour has motorists using U.S. Highways 56 and 59 to avoid the construction, but most local drivers have made use of shorter alternate routes through the Firetree subdivision or along Eisenhower Street. There will be times during the last phase of construction when unofficial detours will require more out-of-route miles.
Browning explained road improvements would extend 500 feet north of the Sixth Street/County Road 12 intersection to allow for the road to narrow as the turn lane ends. That will require the intersection to be closed three times in the coming months. The first two-day closing will come soon after the barricades are moved to allow the removal of existing asphalt. It will later be closed to allow contractors to make storm drainage improvements and a last time for road grading and paving.
"The contractor is going to endeavor to keep the intersection for Route 12 open to traffic," Browning said. "There will be times they won't be able to do that."
Browning said the contractor made up about a week during the second phase, which started July 16, and the project was on schedule.
Phase 3 will take more time because the section is about the same length as the first two phases combined and because of the need to install storm drainage and a new culvert, Browning said.
The goal was to have the road open to traffic by Dec. 1, although some final details would have to be addressed next spring, Browning said.