Baldwin surprises at Frontier League Invitational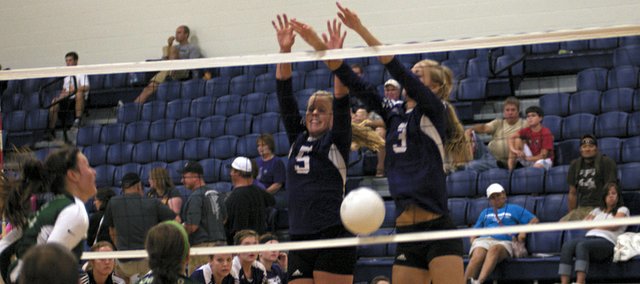 Eudora — The Baldwin Bulldogs volleyball team opened the season and probably some eyes with a third-place finish Saturday in the Frontier League Invitational.
Baldwin was seeded eighth in the tournament contested in Eudora, which placed it below the six other league teams and Basehor-Linwood, invited to the event to fill out the eight-team bracket.
Coach Jill Brown, who returned to take over the Baldwin High School program this year after an eight-year hiatus, said her team played well in finishing with a 3-2 record in the tournament. She did not see any teams in the tournament the Bulldogs shouldn't be competitive against.
"That's a good thing," Brown said.
Baldwin opened against De Soto in pool play, losing in three sets 25-20, 23-25, 24-26. It then came back to defeat Basehor-Linwood (15-25, 27-25, 25-23) and Ottawa (25-20, 25-20).
The team emerged from pool play to face Louisburg, losing in two sets (15-25, 20-25). It was the only match of the day in which the team did not have focus, Brown said.
The team earned its third-place finish by avenging its earlier loss to De Soto (25-17, 18-25, 25-21).
The third-place match was big because it allowed the Bulldogs to leave with a winning record for the day, Brown said.
"The girls have worked very hard the past two weeks," she said. "I'm glad they had success today to show for that.
"We hit the ball really well. We passed well and were able to get the ball to our big hitters."