Moni's seeks to be more than restaurant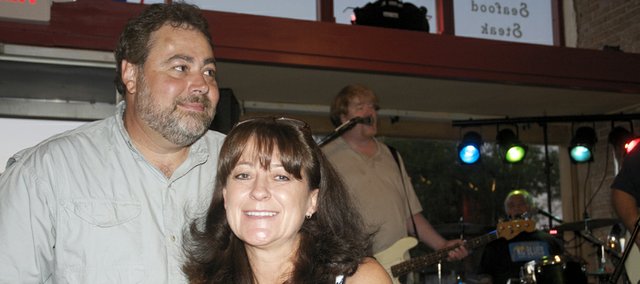 It's not by chance Moni's chose last Friday for its grand reopening after closing its doors for about a month.
The reopening coincided with the return of Baker University students to Baldwin City, and the students and the university play an important role in the downtown restaurant's operation and success.
The husband and wife team of Monica and Jon Cook opened the restaurant at 711 High St. early this year after extensively redecorating the old Hickory Creek Barbecue. The work included installation of a wall to separate the dining area from the bar.
The Cooks see their restaurant, which is open from 2:30 p.m. to 10 p.m. Wednesday and Thursday and 11 a.m. to 11 p.m. on Friday and Saturday, as a venue for community, school and university events, as well as a setting for private parties and gatherings.
Ties with the university are important, Jon said. Among its staff members are university students, including the wait staff manager. Jon said one of the gratifying things about having the business in Baldwin City was the chance to employ students with odd schedules.
"It's nice to be able to offer jobs, especially with jobs being so hard to find," he said.
In a further strengthening of its ties with the university, Moni's will host Baker University football coach Mike Grossner's weekly radio show starting next week, Jon said. That builds on fundraisers the restaurant has had for university teams at which it gives them a percentage of its food profits for the night. Moni's has made the same arrangement for Baldwin High School teams and organizations, and a full fall and winter schedule of Saturday fundraising days has been developed, Jon said.
"We're very immersed in the community, the university and high school," he said. "It's easier for the groups to get a percentage of our sales than to have long-term candy sales or something."
Moni's also showcases Baker talent as part of its scheduled Friday and Saturday night entertainment, which includes acts from Lawrence and the Kansas City metropolitan area. Among the Baker groups to perform is the improvisational group Loud Noises, Jon said.
Jon said the Cooks were investors in restaurants and decided to open in Baldwin City because Monica didn't think she or others should have to travel to Kansas City for a quality seafood or steak dinner. After adding a kitchen to the establishment, they opened with calamari, shrimp, crab cakes and other seafood items, chicken and steaks. They also kept barbecue on the menu after buying the equipment from the restaurant's previous owner.
They hired two chefs from well-known Lawrence establishments and recently added a bartender from the closed Angler's Seafood House in downtown Lawrence, Jon said.
The Cooks make it a point to listen to customers and respond with menu items they request. Fish and chips are popular, and Moni's serves a sizable hamburger.
"Our customers told us they didn't want little, itty bitty hamburgers. They wanted half-pound burgers," Jon said.
The Cooks plan to add a breakfast and lunch buffet for Fridays, Saturdays and Sundays, Jon said.
"Around 11:30, it will roll over to lunch," he said. "We'll have barbecue, chicken and meatloaf, all the trimmings and a salad bar. Right now, you can't go anywhere in Baldwin and get a breakfast buffet or salad bar."
Also coming soon will be a 130-inch, high-definition projection screen TV, which should make Moni's more popular with Baker football players and sports fans, Jon said.