Food: Fresh recipes bring apples out of autumn, into August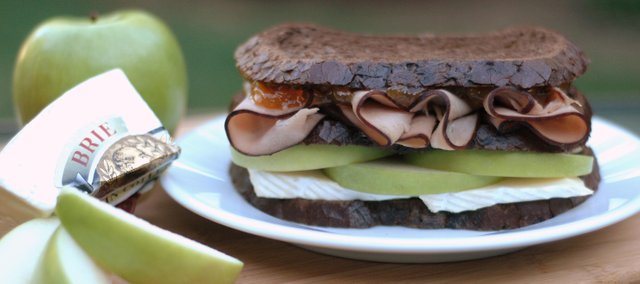 Apples may be early this year, but there's no reason to rush these fall favorites into their signature cool-weather dishes quite yet.
Better to make the most of summertime food before summer slips away.
We sifted through typical apple recipes featuring cranberries, fall squash or winter spices to find these fit-for-summer ideas.
Chilled desserts and bright ingredients — think lime juice, lemon grass, fresh basil and other seasonal produce — help bring apples out of autumn and into the light lunches, cookouts and 90-degree days of August.
HAM, BRIE AND APPLE TRIPLE-DECKER SANDWICH
This satisfying sandwich has creamy, crispy, savory and sweet in every bite.
Servings: 1
Brie cheese, sliced
Tart apple, sliced
3 slices pumpernickel bread
Ham, thinly sliced
Fruit chutney (such as mango)
Layer cheese and apple onto one slice toasted bread. Top with another toasted slice, then ham. Spread chutney on a third toasted slice and place on top.
Recipe from marthastewart.com.
CHICKEN SALAD WITH APPLE AND BASIL
Lime juice, mint and roasted peanuts give an Asian twist to this fresh no-mayonnaise chicken and apple salad.
Start to finish: 25 minutes (20 active)
Servings: 4
4 boneless, skinless chicken breasts
4 teaspoons kosher salt
1 teaspoon black pepper
1/4 cup fresh lime juice (from 2 to 3 limes)
1 tablespoon white wine or rice vinegar
2 tablespoons light brown sugar
4 scallions (white and light green parts), thinly sliced
2 Granny Smith apples (peeled, if desired), diced
1/3 cup roasted peanuts, roughly chopped
2 tablespoons thinly sliced fresh mint
1/2 cup thinly sliced fresh basil
Rinse the chicken and pat it dry with paper towels. Pound it to an even thinness. Place the chicken in a large saucepan and add enough water to cover by 1/2 inch. Add 3 teaspoons of the salt and 1/2 teaspoon of the pepper and bring to a gentle simmer. Cook until no trace of pink remains, 8 to 10 minutes. Transfer the chicken to a bowl of ice water for 5 minutes. Meanwhile, in a large bowl, combine the lime juice, vinegar, and sugar, stirring until the sugar dissolves. Add the scallions and apples and toss. Drain the chicken and pat it dry. Dice the chicken and add it to the apple mixture along with the peanuts, mint, basil, and the remaining salt and pepper. Toss and divide among individual plates.
Recipe from August 2006 issue of Real Simple.
KOHLRABI AND APPLE SALAD WITH CREAMY MUSTARD DRESSING
Reviewers of this recipe commented that it was a great way to use up — or, for some, hide the taste of — the kohlrabi they got in their CSAs.
Start to finish: 45 minutes
Servings: 8
1/2 cup heavy cream
2 tablespoons fresh lemon juice
1 tablespoon coarse-grain mustard
3 tablespoons finely chopped fresh parsley leaves
1/2 teaspoon sugar
2 bunches kohlrabi (about 2 pounds), bulbs peeled and cut into julienne strips, stems discarded, and the leaves reserved for another use
1 Granny Smith apple
In a bowl, whisk the cream until it holds soft peaks and whisk in the lemon juice, the mustard, the parsley, the sugar and salt and pepper to taste. Stir in the kohlrabi strips and the apple, peeled, cored and diced, and combine the salad well.
Recipe from October 1992 issue of Gourmet, as listed at epicurious.com.
ASIAN APPLE MARINADE
A bright, summery marinade for beef — save the red wine, Worcestershire sauce and whole peppercorns for winter. Find lemon grass at Asian markets.
Servings: Makes enough for 2 to 3 pounds of beef
1 tablespoon extra-virgin olive oil
1 Granny Smith apple, cored and cubed
1/4 cup chopped lemon grass (from 3 stalks)
3 garlic cloves, minced
1 piece (1 inch) fresh ginger, sliced
1 fresh red finger chile, thinly sliced
3 whole star anise
1/2 cup water
1/4 cup tamari or regular soy sauce
3 tablespoons apple juice
1 tablespoon unseasoned rice-wine vinegar
1 tablespoon light-brown sugar
Heat oil in a medium saucepan over medium heat. Add apple, lemon grass, garlic, ginger, chile, and star anise. Cook, stirring, for 5 minutes.
Add the remaining ingredients, and bring to a simmer. Remove from heat, and let cool for 5 minutes.
This marinade works best with skirt, flank, or hanger steaks. Marinate the skirt for 4 hours, the flank and hanger overnight, and then grill over medium-high heat to desired doneness.
Recipe from marthastewart.com.
GRILLED STUFFED APPLES
For the taste of apple pie without turning on your oven, cook these outside along with whatever else you're grilling for dinner.
Servings: 4
4 large baking apples
1/2 cup raisins
1/2 cup dry sherry
2 tablespoons chopped walnuts
2 tablespoons brown sugar
2 tablespoons chopped maraschino cherries
1/8 teaspoon cinnamon
1/8 teaspoon ground cloves
1/8 teaspoon nutmeg
1 tablespoon butter
Core apples, enlarging hole slightly. Place each apple on 12x18-inch sheet of heavy-duty foil. Spoon mixture of raisins, sherry, walnuts, brown sugar, cherries, cinnamon, cloves and nutmeg into apples; dot with butter. Fold and seal foil loosely. Grill over low heat for 1 hour or until apples are done to taste. Serve with vanilla ice cream. May substitute water for sherry.
Recipe from the Kansas City Barbeque Society Cookbook, Kansas City Barbeque Society, 1996.
GREEN APPLE GRANITA
A lot of apple granita recipes just use apple juice. This one calls for actual fruit.
Start to finish: 3 1/2 to 4 1/2 hours (30 minutes active)
Servings: 8
1 cup water
2 cups sugar
Juice of 3 limes
5 Granny Smith apples, about 2 pounds, peeled, cored and cut into medium dice
1/2 cup apple liqueur, such as Apple Pucker
In a large pot over medium heat, combine the water and sugar. Cook and stir until the sugar has dissolved and the syrup looks clear, about 5 minutes. Remove from the heat and cool the syrup by pouring it into a bowl and putting it in the refrigerator or in an ice bath.
Put the lime juice into a large bowl. Add the apples to the lime juice, and toss as you go so they don't turn brown. Put the apples and lime juice, sugar syrup, and apple liqueur in a blender; puree until completely smooth. Pour the apple mixture into a shallow baking pan and freeze for one hour. Using a fork or a couple of chopsticks, break up all the ice crystals on the bottom and sides of the pan. This incorporates air so the final product literally melts in your mouth. Freeze for 3 to 4 hours, until the mixture has reached a frozen granular consistency. You can serve it two ways: Either rake the granita with the tines of a fork for a snow cone-like product or run an ice cream scoop down the length for a smooth Italian-ice-like result. Spoon it into wine or martini glasses.
Recipe from tylerflorence.com.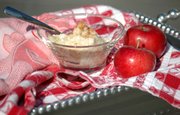 APPLE SNOW
An old-fashioned recipe — which turns out like airy applesauce fluff — from a cookbook inspired by Kenneth Grahame's "The Wind in the Willows" British children's tales. Top it with cinnamon or a cherry for a low-fat and low-sugar snack or dessert. Note: This recipe contains uncooked egg whites.
Servings: 4
2 pounds (900 g) cooking apples
1/4 cup (60 g) sugar
2 egg whites
Cream
Peel and core the apples and cut in slices. Put them in a saucepan with 2 tablespoons water and the sugar. Cook gently until soft; then push through a medium food mill, or a coarse sieve, or put briefly in a food processor. Pour into a bowl and leave to cool. When they are cold, beat the egg whites until stiff and fold into the apple puree. Tip into a bowl and chill in the refrigerator for an hour or two. Serve with cream.
Recipe from Arabella Boxer's "The Wind in the Willows Country Cookbook," Methuen Children's Books Ltd., 1983.
BLACKBERRY AND SUMMER APPLE PIE
Andrea Reusing's "Cooking in the Moment" offers a year of seasonal recipes, including this one for late summer, when blackberries and apples are ripe at the same time.
Start to finish: 3 hours (45 minutes active)
Servings: 10 to 12
For the cornmeal crust:
2 cups all-purpose flour
2/3 cup stone-ground cornmeal
3 tablespoons confectioners' sugar
1 teaspoon kosher salt
1 1/4 cups (2 1/2 sticks) unsalted butter, cut into pieces, cold
5 to 7 tablespoons ice water
For the filling:
4 cups fresh blackberries
1 large or 2 small tart summer apples or Granny Smith, unpeeled, cored and sliced into 1/4-inch slices (2 cups)
1 cup granulated sugar, depending on the tartness of the fruit
3 tablespoons powdered tapioca or cornstarch
1 teaspoon fresh lemon juice
Pinch of kosher salt
Combine the flour, cornmeal, confectioners' sugar and salt in a bowl and mix with a spatula. Using a pastry cutter or two knives, cut in the butter. (Alternatively, you can use a food processor.) The butter chunks should vary from pea-size to quarter-size. Drizzle in 5 tablespoons ice water and stir with the spatula. Add another tablespoon or so of ice water if the mixture seems too dry. The dough should not be coming together too much at this point. Next, dump the mixture onto a clean work surface, and using the floured heel of your hand, smear the dough to incorporate. Gather up the dough and do this once or twice more, just until it comes together and you can see streaks of butter throughout. Divide the dough in half and form into two loose balls. Wrap them in plastic wrap and press down to flatten the dough into two 1/2-inch thick disks. Refrigerate for a couple of hours or overnight, until well chilled.
Preheat the over to 400F.
Remove dough from the refrigerator and allow to sit at room temperature for 10 to 15 minutes.
Combine all filling ingredients in a bowl and let sit while you roll out your pie crust. Using a rolling pin on a lightly floured surface, roll each disk to 1/8-inch thickness. Line a 9-inch pie tin with one round of dough, add the filling, and cover with the other round of dough. Crimp the edges with a fork or pinch them with your fingers to seal, removing any excess dough. Cut about five vents around the top of the pie to allow the steam to escape.
Bake the pie in the lower third of the oven for 30 minutes. Then reduce the oven temperature to 350F, slip a baking sheet under the pie to catch any bubbling juices, and bake for another 30 to 45 minutes. The pie crust should be nice and browned, and the juices should be bubbling through the vents. Pull the pie out and let it cool before cutting.
Recipe from Andrea Reusing's "Cooking in the Moment," Clarkson Potter/Publishers, 2011, as listed at seriouseats.com.