Baldwin High School soccer team looks to continue success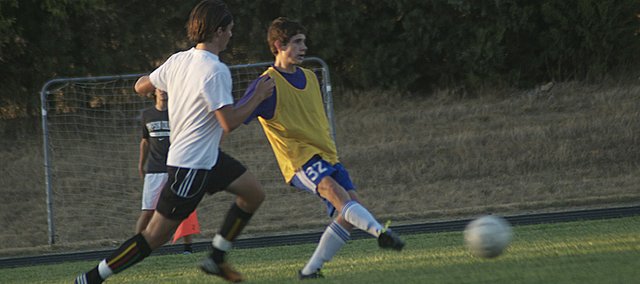 Coach Mark Joslyn doesn't think his Baldwin High School soccer team has to rebuild after enjoying its most successful season.
The 2011 team went 14-4-1, earning the school's first state tournament appearance with a dramatic penalty kick 4-2 win against Independence in the regional finals before falling 3-0 to Rose Hill in the state quarterfinals.
Seven varsity seniors are gone from last year's squad, but Joslyn feels the program has progressed to the point that success can be sustained.
"I'd like to think so," he said. "We have a good turnout of freshmen. I think they are one of the better freshman classes we've had. We have a program in place that allows them to come up through the system and have a sport to play."
The team does start practices with pieces in place, especially on defense, where two senior anchors return, Joslyn said. Returning from a defense that earned eight shutouts and blanked its last six regular-season foes, are goalkeeper Mason Bandre, a second-team all-region selection in 2011 and first-team all-Frontier League performer, and center-back Austin Krause.
The offense must replace the scoring of Caleb Michaels, that of coach's son Louis Joslyn, and Clint Champion. L. Joslyn, who was named first team all state, score 12 goals and had 16 assists last year, while Michaels, an honorable mention all-state selection, had 15 goals. All three departing seniors were first-team all region.
Among those being counted on to help score this year are juniors Russell Cloon, Duncan Murray and Nick Joslyn, another returning second-team all-region and first-team all-league selection, and senior Alex Petry.
The Bulldogs will get an early test when it entertains Tonganoxie, another state team from a year ago, in its opening match Friday. The varsity match will start at 4 p.m. at the BHS soccer field north of the school parking lot.
After that, the Bulldogs will play two matches against teams Joslyn said are expected to be among the best in the Frontier League, Spring Hill and De Soto. They, like Baldwin, are young but experienced teams, Joslyn said.
Schedule
Aug. 24, Tonganoxie
Aug. 28, at Paola
Aug. 30, Spring Hill
Sept. 4., at De Soto
Sept. 6, at Basehor-Linwood
Sept. 11, Eudora
Sept. 13, at Louisburg
Sept. 18, Ottawa
Sept. 20, Paola
Sept. 25, at Spring Hill
Oct. 2, at Perry-Lecompton
Oct. 4, at Eudora
Oct. 9, Louisburg
Oct. 11, at Ottawa
Oct. 15, at Maranatha
Oct. 16, De Soto