New work to be displayed at art center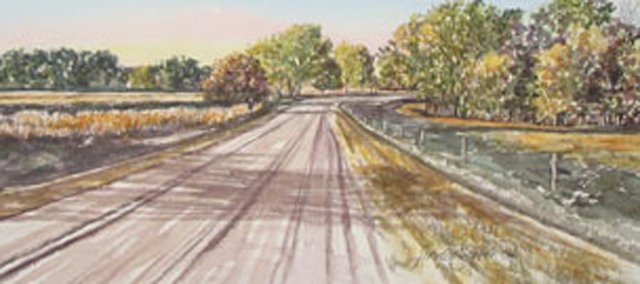 Baldwin City artist Linda Everett has been a lifelong artist. She received her bachelor's degree in commercial art from Fort Hays Sate University and worked in publication layout, illustration and interior design. She painted with acrylics in college, as well.
"Since I was a little girl, I've loved to create in one way or another," Everett said.
Twelve years ago, Everett took a watercolor painting class and was a natural. Her paintings range from landscapes of places she's been and seen to portraits of friends, but her niche is in painting animal portraits.
Everett began painting pet portraits when her boss's dog died a few years ago. She painted a portrait of the dog from a photo and began receiving phone calls asking her to paint other people's pets after the dog's portrait was hung up in a business.
"It's something I do in my spare time, a hobby that has turned into a side business," Everett said.
Everett has spent most of the past year painting pet portaits but equally enjoys painting people and animals.
"I like painting the skin tones and expression on a person but also trying to develop the fur on an animal and the expression in the animal's eyes," Everett said.
Her portraits, landscape and still-life paintings will be on display at the Lumberyard Arts Center in her gallery show Portraits, Places and Passageways. It will include commissions of pets and people, as well as paintings of doorways, windows, porches, bridges, roads and gates.
An artist reception for Everett is scheduled for 7 p.m. to 9 p.m. Friday from at the Lumberyard Arts Center and is free and open to the public. The event will run Friday through Sept. 15.