Douglas County to assist city with
U.S.

56/High Street costs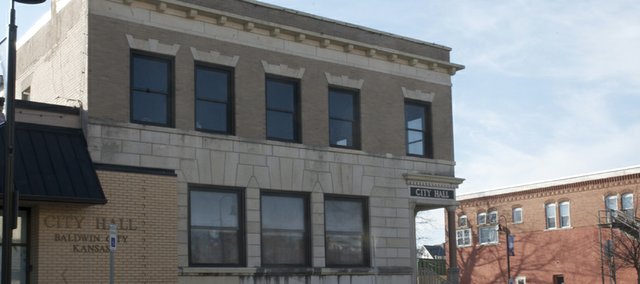 Douglas County will help the city with its costs in the coming realignment of the High Street/U.S. Highway 56 intersection.
In February, the Kansas Department of Transportation included the city-submitted makeover of the intersection on the city's east side on its 2014 access management project list.
KDOT's access management program makes safety upgrades on identified corridors, such as U.S. 56, consistent with plans developed with local participation.
The project will eliminate the sharp angle of the current intersection by curving High Street to the north just to the west of its current alignment. With that, High Street would meet the highway at a 90-degree angle and at the same height.
The new alignment also would be carried on north of the highway. On that side of the highway, High Street would then transition to an east-west frontage road providing access to industrial park properties.
To further improve safety, left-turn lanes would be added to the middle of U.S. 56 east and west of the new intersection.
KDOT will pay up to $775,000 of the construction cost. Baldwin City is on the hook for right-of-way acquisition, engineering and utility relocation, estimated to cost $200,000.
City Administrator Chris Lowe informed the Baldwin City Council at its Aug. 6 meeting that Douglas County commissioners had agreed to pay 40 percent of the city's cost, potentially reducing its investment in the project by $80,000.
Also at the meeting, the council gave its initial approval to designating Eisenhower, Lawrence and High streets as main trafficways. The move is needed if the city is to issue bonds for improvement to the streets.
KDOT plans next year to widen the U.S. 56/Lawrence Street intersection on the west side of the city to three lanes.
The council agreed in April to have BG Consultants Inc. develop the cost of paving Eisenhower Road and 1700 Road north of Baldwin High School to Douglas County Rte. 12. At the time, Lowe said it was hoped Douglas County would participate in the project.