Baldwin City trio believe mission trip made a diffference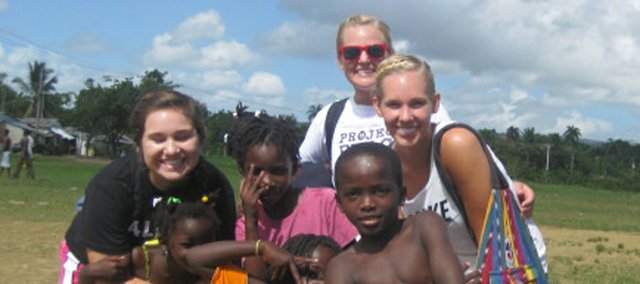 Three young women from Baldwin City have returned from a six-day mission trip to the Dominican Republic, but they are still working to make a difference in that impoverished Caribbean nation.
Recent Baldwin High School graduates Brooke Morgan and Claire Peterson were joined by Claire's 21-year-old sister, Alyssa Peterson, on the trip to Sousa, a city on the northern coast of the Dominican Republic.
The three women said they all felt called to make an overseas mission trip after serving on multiple domestic missions with Baldwin First United Methodist Church. After an Internet search, they found GO MAD Ministries. Claire explained MAD stood for "make a difference," which the ministry of Chantz and Renee Cutts attempts to do by working to end human exploitation in a nation with the world's fifth highest rate of prostitution.
"We liked it because we liked what they were doing," Claire said. "We talked with them and felt comfortable with them. That's important for three girls leaving the country by themselves."
The three young women stayed in a hotel from July 22 to 27 in Sousa, which housed many other missionaries, Claire said. But during the day, they were assigned a number of activities within the GO MAD Ministries.
They painted rooms in one village school and took down children's information at another school so that the students could be sponsored by supporters in America and other countries and continue their education. They also took some time to play with the children they were registering.
As simple as that last assignment sounds, it left a lasting impression on the young women and, they think, the children.
"When I was registering children, several kids told me they had 10 or 10-plus brothers and sisters," Alyssa said. "Their parents are kind of strung for time. They loved having someone to play with who was looking at them the whole time. They didn't care if we weren't fluent in Spanish, they just enjoyed jump roping and riding on our backs."
Unfortunately, a child's innocence can be lost early in a nation with few opportunities. The young women saw that side of young Dominican life, too, in Sousa, a resort town that has seen better days.
"The town we stayed in is also the biggest town in the Dominican Republic for prostitution," Claire said. "Our hotel was one block away from the main drag. We saw girls 13 or with braces walking on the street. I have a sister who is going to be a freshman, and to see girls her age on the street put it in perspective for us."
GO MAD offers a shelter called Oasis, which helps girls who are trying to leave the street. Morgan said the girls are given housing for three months along with educational classes and training in employment and domestic skills.
One of the things the Oasis boarders do is make jewelry. The three Baldwin City women brought back some of the colorful bracelets, necklaces and earrings to sell at a gathering Tuesday evening at the Baldwin First UMC, at which they also shared their experiences.
Morgan said the jewelry would be on display on Sunday at the church for the next month for those who would like to purchase pieces and support GO MAD.
The three young women will go their separate ways in the coming weeks. Claire starts her freshman year next week at the University of Missouri-Kansas City, where she will study nursing. Alyssa will return to Kansas State University for her senior year, where she is majoring in dietetics. Morgan will attend California State Monterey Bay to major in marine biology.
But the three young women are united in the belief they did make a difference on the mission trip and in a desire to do more.
"I think we did make a difference," Claire said. "It was a short amount of time, but the one thing that really stuck out was playing with the kids in one of the villages. When we said goodbye, the kids were hugging us. We started that little train of getting kids into school and learning.
"It made a difference in me, too. I'm looking to take Spanish in college so I can help in other places when I get my nursing degree."