Baldwin City to negotiate to bring dinner car operation to Midland Railway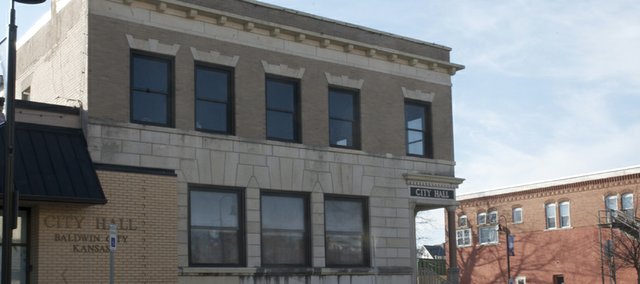 City Administrator Chris Lowe will negotiate with owners of the Fremont Dinner Train about incentives that would allow them to move their business from Nebraska to Midland Railway.
The city council gave Lowe the authority Monday, after Bruce Eveland, manager of the dinner train and one of five investors in the business, appealed for help in relocating four dinner cars from Fremont, Neb., to Baldwin City. The dinner car restaurant has operated the past 24 years on the Fremont and Elkhorn Valley Railroad.
"It seems like we've been in the Olympics all year long," he said. "We've received a tremendous amount of help. We've cleared a lot of hurdles, and we can see the finish line. We need just a little more help."
In a memo to the council, the cost of moving the operation from Fremont to Baldwin City was pegged at $220,000. That total includes $70,000 to retire a loan owed to a Nebraska bank, $80,000 to truck the cars to Baldwin City and $10,000 to update the cars for their move and operation on the Midland Railway.
The memo states the owners have $75,000 to spend on the move, have secured another $25,000 through a loan Mid-America Bank of Baldwin City and obtained a $5,000 Baldwin City Economic Development Grant. The owners are looking to secure a $70,000 loan from a local bank and a $25,000 Entrepreneurship Communities loan from the NetWorks Program, which makes money available for business opportunities in smaller Kansas communities.
That leaves the owners $25,000 short.
City help with that shortfall would be unprecedented, Mayor Ken Wagner said.
"This is uncharted waters," he said. "To my knowledge, the city has never done anything like this to lure a company like this to the community. But, we all have to realize we are in a different time."
Wagner said there already had been a great deal of local help with the project besides that listed in the memo. The Kansas Legislature passed a bill last spring introduced by Rep. TerriLois Gregory, R-Ottawa, which allows railroad restaurants to apply for liquor licenses, and Midland Railway was granted a $54,000 Heritage grant from the Douglas County Commission for help in building a short spur line to park dinner cars when not in use.
Motivating all the interest is the tourism potential of the dinner cars. Eveland said the restaurant draws 8,000 to 9,000 riders a year to its Fremont site from a 150-mile radius to the east, north and south and 250 miles to the west. He said there is more than twice the population within similar distances of Baldwin City.
Six thousand visitors to the community would mean $8,760 a year in additional revenue for the city from sales, bed and liquor tax receipts, Eveland said.
He would like to have the cars relocated to Baldwin City in the fall and operational by the winter, Eveland said.
The dinner restaurant operates year-round in heated and air-conditioned cars and has about 15 part-time employees, Fox said. The dinner cars run Friday and Saturday evenings for fine dining meals at the cost of $54 and a Sunday brunch.
Mike Fox, Midland Railway president, said the dinner cars would supplement Midland's operation. The Friday and Saturday evening dinner car would not conflict with the railway's morning and early afternoon rides on Thursdays and Saturdays, he said. Adjustments would have to be made for Midland's two Sunday rides at 11 a.m. and 1 p.m., he said.
The restaurant's rent and payments for locomotive service would provide additional revenue to Midland, Fox said.