Baldwin City polls closed, turnout mixed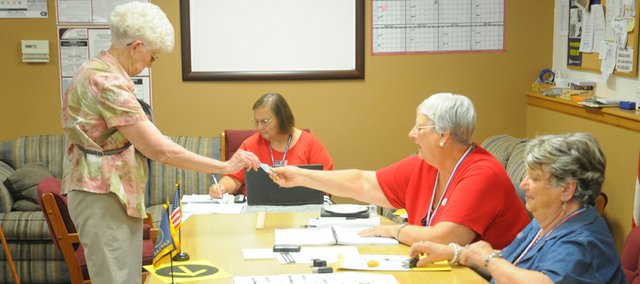 Baldwin City's two downtown polling places closed with a marked difference in turnout.
The 62nd Precinct site at the Baldwin City American Legion Hall had 280 voters, or about 21 percent of its 1,353 registered voters.
Just minutes before the polls closed at 7 p.m., 176 voters had made it to the Baldwin City Fire Station to vote at the 60th Precinct polling site. That was good for about 15 percent of the precinct's 1,185 registered voters.
The city's third voting site, the 61st Precinct at Baldwin Junior High School, reported 135 of its 1,503 registered voters had voted as of 3:30 p.m.
After a 3:30 survey of county polling sites, Douglas County Clerk Jamie Shew cautiously predicted turnout to exceed that of the 2010 primary by a small margin. He guessed final countywide turnout would be about 15 percent.
Poll workers at all sites reported no problems with the new state law requiring voters to provide valid photo identification before receiving ballots.
"Most people usually have it out before we ask for it," Coon said. "I've heard a couple of comments — negative.
"Most people are showing their driver's license. I've had one military ID and one passport.
Douglas County Clerk Jamie Shew released voter turnout projections based on an 11 a.m. survey of county polling sites. The projections indicate a turnout of 13 to 15 percent.
The county had a 13 percent turnout in the 2010 primary. The Kansas Secretary of State's office is predicting an 18 percent turnout statewide.
Baldwin City voters of both parties will find ballots with contested races.
Democratic voters will decide which of three candidates, Scott Barnhart of Ottawa, Bob Eye of Lawrence or Tobias Schlingensiepen of Topeka, will face incumbent Republican Lynn Jenkins for the 2nd District U.S. Congressional seat.
Republicans will select either Anthony Brown of Eudora or J.C. Tellefson of Leavenworth to run against incumbent Tom Holland, D-Baldwin City, for the 10th District Kansas Senate seat.