State representative looking to jump to upper house in Topeka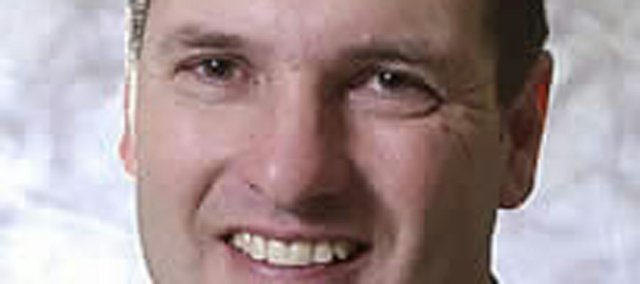 This year's redistricting jumble did play a role in state Rep. Anthony Brown's decision to run for a state Senate seat, the Eudora Republican said.
But he was also motivated by something else, he said: His sense that voters in the 3rd District were unhappy with their current state senator, Democrat Tom Holland of Baldwin City.
"They felt for the last four years they had been underrepresented," Brown said of his interactions with voters in Leavenworth and Douglas counties.
Redistricting had placed Brown, who was first elected to the House in 2004 from the 38th District, in the same House district as another Republican incumbent, TerriLois Gregory, causing him to ponder a leap to the Senate (Gregory has since moved to another district). His conversations with voters sealed the deal, he said.
Brown said that one of his criticisms of his opponent in the Aug. 7 primary, J.C. Tellefson of rural Leavenworth, could also apply to Holland.
"My world view is different than my opponent's," Brown said. "He wants to focus on the institutions. I want to focus on individuals."
Anthony Brown
Age: 43
Occupation: Carpenter/self-employed contractor
Married: Yes.
Children: Six.
Religious affiliation: Catholic
Education: Bachelor's degree in secondary education from Emporia State University
Experience: State representative, first elected in 2004. Taught school for four years before a career change to carpentry.
In a questionnaire submitted to The Mirror, Brown said that meant he focused on the needs of taxpayers, while Tellefson was more concerned with the needs of the government. He said his main concern as a state senator would be improving the economic fortunes of Kansas families.
"Sometimes they're underemployed, or they're missing full-time employment, or they're working two different jobs," Brown said. "That's tough for a family to depend on that kind of income."
One way to help improve families' situations, he said, was to avoid awarding tax breaks just to certain businesses rather than easing the tax burden on regular taxpayers.
"I'm tired of government picking winners and losers, whether it be big contractors at the federal level or handing out tax breaks to companies in Kansas," Brown said.
On a broader level, Brown said, he'd like to make sure the state government functions efficiently.
"I believe that government should live within its means, and I believe it should live within the Constitution," Brown said.
Brown said he wasn't sure if he and Tellefson fit exactly into the conservative-moderate divide that has pit Gov. Sam Brownback against former Gov. Bill Graves in some Kansas Senate Republican primaries. But Brown, who's been endorsed by the National Rifle Association, Kansans For Life and the Kansas Chamber of Commerce, falls more on the conservative end of the spectrum, he said.
"I think most people would probably consider me a conservative, and I am when it comes to life and liberty and the right to own property," Brown said.
The newly drawn 3rd Senate District covers parts of Leavenworth and Douglas counties, including Basehor, Tonganoxie, Eudora, Baldwin City and about one-third of Lawrence's population.
Polls are open 7 a.m.-7 p.m. Tuesday at various polling sites. New voter ID laws require that voters present a photo ID when voting. A satellite advanced voting station will be offered 2-6 p.m. today at the Tonganoxie Public Library, Third and Bury streets.
In addition, rural Tonganoxie Township residents who normally vote at the Leavenworth County Fairgrounds will have a different polling place for Tuesday's primary election.
Because the Leavenworth County Fair will be in progress next week, those residents will vote at Tonganoxie Christian Church, 204 Washington St. in Tonganoxie. Residents affected will be those who live in Tonganoxie Township outside of the city limits.