Lumberyard Arts Center's fundraiser to bring Casablanca to Baldwin City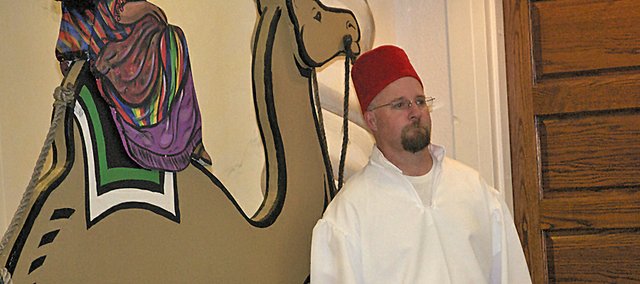 The Lumberyard Arts Center wants to take guests to the Middle East with Moroccan food and decor as it transforms into Rick's Café Américain for Casablanca Night at 7 p.m. Saturday.
The event is a celebration of the 70th anniversary of the film "Casablanca" and a fundraiser to help offset the center's operating costs and construction costs for a theater the center plans to build.
The food, catered by Tanya Sieber, Baker University dining services director, will include a bazaar buffet filled with dates, nuts and fruits and two cooked-to-order entrees. One entree will be a couscous station where guests can choose from couscous, grilled vegetables and meat and the other will be a paella station.
"The food is going to be amazing," said Sandy Cardens, the center's board secretary and gallery coordinator.
Wine will be served with the meal but there will also be a bar where guests can get a drink for the cost of a donation.
The movie will be playing in a room during the event so people can watch throughout the night, but real life "Casablanca" characters such as Rick, Louie and Ilsa will be walking around the event, played by members of the Baldwin City Community Theatre. Live 1940s music will be provided by Gary Keller who will play piano and Shelly Todd who will sing. To make the center as much like Rick's as possible, roulette and blackjack tables and dealers will be at the event as another form of entertainment.
Last year the center's fundraiser theme was a luau, but with this summer's high temperatures members of the Lumberyard Arts Center board thought it would be best to avoid the outdoors.
"It's going to be something we've not seen before in Baldwin," Cardens said.
Tickets are $75 per person or $125 for two. To purchase a ticket, contact Cardens or the Lumberyard Arts Center immediately to reserve a meal.
Donations to the Lumberyard Arts Center are also accepted on location, by mail or online at www.lumberyardartscenter.org
— Staff intern Meagan Thomas can be reached at 832-6342.