Hammering down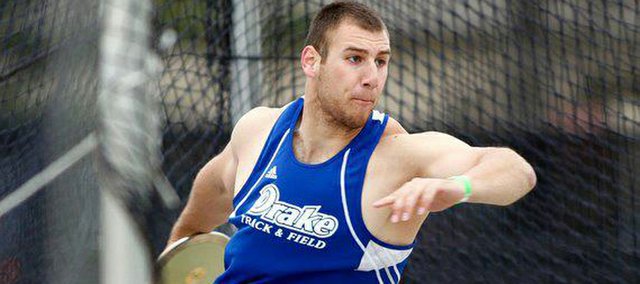 Isaac Twombly found two loves when he left home for college.
At Baldwin High School, Twombly finished seventh at state in the discus his senior year. That earned him a scholarship at Drake University in Des Moines, Iowa. It was a school he has grown to love in the past three years.
It was at Drake his freshman year that Twombly, the son of Matthew and Terri Twombly of Baldwin City, was introduced to the hammer throw. And although he still competes in the discus, the hammer — and its indoor equivalent, the 35-pound weight throw — soon became his best and favorite event.
"I had seen them before, but I'd never thrown one," he said. "I love it."
His freshman year, Twombly bettered the Drake school record in both the hammer and the weight. He modestly says that is as much a reflection on the mediocre throwers before him as his ability.
Twombly has also filled out. He left high school at about 6-4 and 225 pounds. As he heads into his senior year at Drake, he is 6-5 and about 245 pounds, he said.
The commitments of the team from fall training to mandatory team meetings, practice and travel to events can be demanding, Twombly said. But Drake is very good about working with athletes so that they can fulfill all their obligations.
Drake competes in the Missouri Valley Conference against such schools as Wichita State, Missouri State, Bradley, Northern Iowa, Creighton, Illinois State and Indiana State. This spring, Twombly placed 10th in the outdoor conference meet in the hammer with a throw of 184-5.75 and 11th in the discus with a mark of 148-7.
"The Valley has some of the best throwers in the country," he said. "It's very competitive."
One of the most enjoyable things about his student-athlete experience is traveling to meets, Twomby said. That is mostly confined to the Midwest, but he said the Drake team did have a training week at Baylor University in Texas this spring.
There is one Midwest event Twombly hasn't had the opportunity to compete in.
"We don't go to the Kansas Relays," he said. "I don't know why, but our coach doesn't have us go there.
"That's one thing I'd really like to do my senior year."
It's not that Twombly has missed out on high-profile spring events. The Drake Relays, which were first contested in 1910, are alongside the Kansas and Penn relays as one of the top three outdoor spring track and field events, attracting top college and professional athletes.
This past spring, Twombly said he was able to watch up close up at the Drake Relays athletes who are now representing the United States in the shot put in the Olympics.
Twombly is entering his senior year excited about one last chance to compete but also eager to finish his degree and start a career. A biology major, he decided to go to Drake because of its strong science programs.
He said his intention was to pursue a medical degree, but after consideration and talking with those who had went through the program, he decided it wasn't for him. But he hasn't completely turned his back on the health field.
"I'm planning to enter nursing," he said. "I would also like to get into coaching. Maybe do both, nursing and coaching track. I have a year to figure that out."