Baldwin's Bulldog Days shapes up participants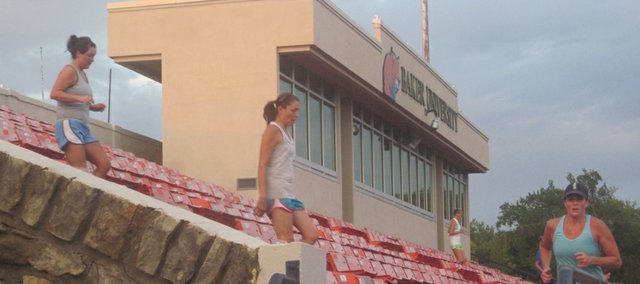 Some Baldwin City residents made an extra effort to exercise at Liston Stadium and earn a free T-shirt this week as part of Bulldog Days, a free summer exercise program sponsored by the Baldwin City Recreation Commission and Baker University.
Bulldog Days is a 30-minute workout led every morning and evening by Baldwin Athletic Club owner George McCrary. As an incentive to get people in Baldwin City to attend workouts and get fit, attendance is taken at each workout. Participants who do the Bulldog Days workout 25 times get a free T-shirt; those who attend 50 sessions get a "mighty dog" T-shirt.
Completing 25 Bulldog Days isn't easy. To earns a T-shirt, participants must complete 2,500 push-ups, 2,500 sit-ups and 2,500 jumping jacks, along with plyometric exercises and 50 miles of running. The workouts vary each day.
"When I hear people complain and grumble, then I definitely repeat that workout," McCrary said.
With only a few days left until the final day of Bulldog Days on Friday, many participants are showing up to be sure they complete their 25 days.
Many attending are looking for more than a free T-shirt. Antoniyo Solomon attends five times a week and uses it as a way to hold himself accountable for exercising.
"It keeps me motivated," Solomon said. "If I want to sit on the couch, I know someone is going to ask me where I was."
Kelly Carr attends Bulldog Days with her sister. She said the two use it to hold each other accountable, but also because "it pushes you to do things you wouldn't do by yourself."
Carr said having 30 other people running stairs alongside her makes her work harder to keep up with the other Bulldog Days participants.
Bulldog Days has also helped Soloman and Carr to reach their fitness goals. Both lost weight this summer and each earned a Bulldog Days T-shirt.