Baker student play to explore absurdity of love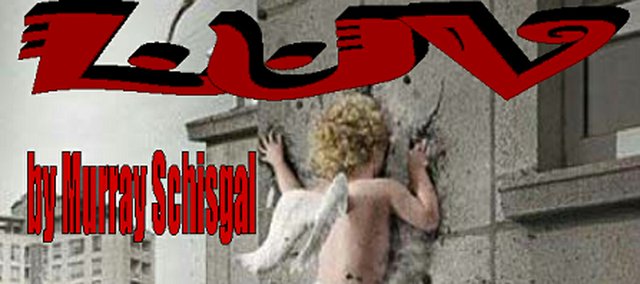 Senior Andrew Simons started his acting career at Baker University in the fall as a cast member of "The Diviners." After appearing in only a few shows, Simons will be one of three actors in Baker's upcoming production of the comedy "Luv" by Murray Schisgal.
"To come back and do this big of a show with only a couple other shows under his belt is just remarkable," scenographer and technical director Tom Heiman said. "I'm really proud of (him and juniors Patrick King and Abbey Jones)."
Simons, King and Jones will be the only cast members in the play, which Heiman said was a larger undertaking than any students have had in many years.
"I don't think we've had any individual who's been in a lead of a show that's had to learn this many lines, and all of these people have taken on a much larger task," Heiman said.
"Luv," which the cast began rehearsing near the beginning of March, is a comedy about the absurdity of love. Jones, King and Simons have worked five or six nights a week to prepare for opening night and despite the comical feel of the play, have even done scholarly work to better understand their characters.
"These are three people who are just willing to do things that would totally humiliate anyone else for the sake of comedy, so I hope people will appreciate that," Heiman said.
The play takes place on a bridge New York. A man finds his classmate about to commit suicide and in an attempt to change the classmate's mind, he explains he should live for love. The man tells the former classmate how he wants to divorce his wife and how he is in love now more than he has ever been in his life. He then says the classmate and his wife would be perfect for each other. The classmate and wife meet and in 20 minutes are ready to run off together, but in the second act, everyone realizes they hate their new spouses.
"It's totally dysfunctional. It's absurd. It's silly beyond words," Heiman said. "We're underscoring it with all the overdone love themes from movies."
Some of the music used will include themes from "Gone with the Wind," "Titanic" and "Footloose," and Heiman said the music during intermission should "put a smile on you're face."
"Luv" begins at 7:30 p.m. Thursday-Saturday and at 2 p.m. Sunday in Rice Auditorium. Admission is free and the production is under two hours with a 10-minute intermission.