Baker announces new basketball coach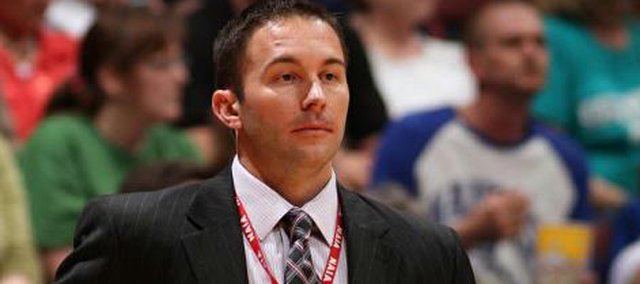 Sean Dooley, an assistant coach at perennial NAIA basketball powerhouse Columbia (Mo.) College, has been named the 26th head coach in Baker University men's basketball history, Baker University Director of Athletics Theresa Yetmar announced on Friday.
At Columbia, Dooley is coming off four consecutive 25-plus win seasons and four trips to the NAIA National Tournament, including one NAIA National runner-up finish.
"Sean is a great fit to lead our program," Yetmar said. "His work ethic, values and passion for mentoring student-athletes naturally align with our mission. Sean has provided strong leadership for winning NAIA programs and we expect our men's basketball program to consistently compete at a championship level."
Dooley previously served as an assistant coach and recruiting coordinator at William Jewell College in Liberty, Mo. He was a part of three consecutive winning seasons with the Cardinals, including two NAIA DII National Tournament appearances. Before William Jewell, Dooley was the UMKC athletic department promotions coordinator in 2002-04 and served as the Instructional Learning Center supervisor at South Valley Junior High School in Liberty, Mo., in 2004-07.
"Coach Dooley will be an excellent ambassador for Baker University both on and off the court," University President Pat Long said. "He will be immediately welcomed into the Baker family, and I am excited to watch as he builds on last year's success."
A 2002 Columbia College graduate, Dooley earned his bachelor's degree in business administration while playing basketball for two seasons. He earned his master's degree in higher education from UMKC in 2004 with an emphasis in sport and fitness management.
"I would like to thank Dr. Pat Long, Theresa Yetmar and the entire basketball search committee for the opportunity to become the next head men's basketball coach at Baker University," Dooley said. "I was extremely impressed with the faculty and staff I met while visiting campus. I share with them the same passion of motivating students to reach their highest level and I can't wait to start working with the team in preparation for next season. My family and I are thrilled to be Wildcats."
Dooley was selected after a nationwide search and will take over the post immediately. He replaces Brett Ballard, who resigned last month to take an assistant coaching position at the University of Tulsa.
An open public reception for coach Dooley will be at 4 p.m. May 4 in the Collins Gymnasium Hall of Fame Rotunda.