PAC

's use as storm shelter for nearby Baldwin City residents probably month away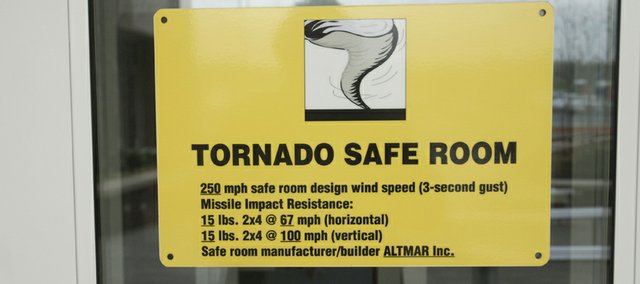 It will probably be another month before Baldwin USD 348's Performing Arts Center will be available for use as a storm shelter for those living near the junior high and high school campus.
At Monday's Baldwin USD 348 Board of Education meeting, Superintendent Paul Dorathy reported he had spoken to a vendor about the locks and cameras that need to be installed before the year-old auditorium can be used as a shelter when school is not in session. It would take about three weeks to get the locks and cameras installed, he said.
When that was done, the district would have a public information meeting to explain how those in the neighborhood can gain access to the building during severe weather, Dorathy said.
"We're getting there. I just don't think it's happening as soon as people would like," he said, noting it had been an active storm season in the state.
Last month, the superintendent proposed to the board that remote locks, which could be activated during severe weather, be installed on the Performing Arts Center so that those living in a nearby mobile home park and apartments could have access to the facility built to withstand an F-5 tornado. Dorathy said the district's insurance carrier would approve of such an arrangement if video cameras were installed to monitor the activity of those seeking shelter during a storm.
Dorathy said the district and the vendor were looking at several lock-box systems containing a key or push-button keyboard as backup should the remote lock fail to activate. The cost of the locking system, the three cameras and their installation would be about $10,000, he said.
There is still enough money available in the Federal Emergency Management Agency grant, which provided the 75 percent of the $4.5 million Performing Arts Center's construction cost, to pay for 75 percent of the locking system and video cameras, Dorathy said.
The board gave support for the expenditure.