Baldwin High School Real World Design team wins school's second national championship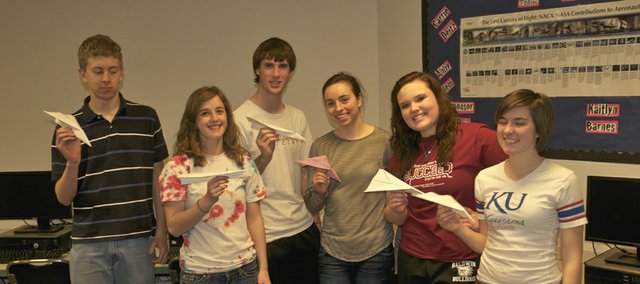 Washington, D.C. — For the second time in three years, a Baldwin High School team is the national champion of the Real World Design Challenge.
The team of freshman Quint Heinecke and juniors Abby Clem, Austin Kraus, Kaitlyn Barnes, Mackenzie Johnson and Carrie Deitz survived two-rounds of competition conducted Saturday in Washington, D.C., to claim the national crown. A Baldwin High School team won the challenge in 2010 and last year's team finished third.
The Baldwin team won the right to compete in the national finals with its first-place finish in February in the state challenge. A BHS team has won the state competition all four years the challenge has been contested in Kansas.
The Baldwin team and those from Nevada and Pennsylvania were selected from the 31 teams that presented in the national's first round Saturday morning at the National 4-H Center in Chevy Chase, Md. The three teams then faced off Saturday evening at the Smithsonian Air and Space Museum's IMAX Theater.
Nanette Kraus, mother of team member Austin Kraus, said the team was impressive on the big stage.
"We are extremely proud of them," she said. "They were amazing last night. They give a presentation and then they have to answer questions for a panel. One of the panel members was the assistant secretary of defense.
"They never lost their composure."
Baldwin High School enhanced learning instructor and team coach Pam Davis said practice and hard work made the difference in the finals.
"I think they surprised even themselves they were so polished and perfect," she said.
Twenty-five team members, family members and friends made the trip to Washington, so the team had a lot of support at the Smithsonian, Davis said.
The national championship was won by team members who understood how to work together for a common goal, Davis said.
"They spread the leadership around, and they all had an important part that was their responsibility," she said. "We have four juniors and one freshman. They split up the workload and did a good job on it."
For this year's competition, the team was challenged to demonstrate the tail section and wings it created with a computer design program for a provided light-aircraft fuselage could take off from Kitty Hawk, N.C., fly to Dayton, Ohio, and land.
The team was able to draw on the expertise of mentors, including two aerospace engineers from Wichita, an equal number of Kansas University graduate students and Sandy Barnes, a computer engineer and mother of team member Kaitlyn Barnes.
The national championship team remained in the nation's capital Sunday. It is set to land at 3:50 p.m. Monday at KCI and return to Baldwin High School at about 5 p.m.
Look here for updates.