Local business looks for city help for expansion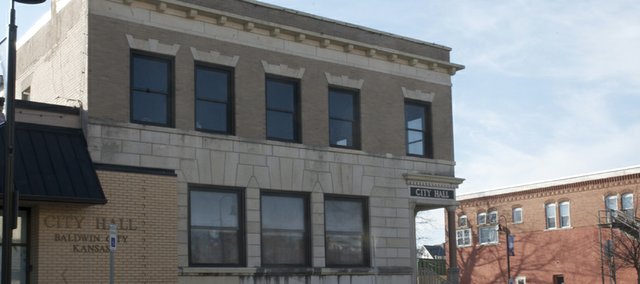 A Baldwin City business looking to expand is asking the city for a $10,000 loan while seeking to take advantage of an economic development program made available last year.
During her report Monday on the monthly meeting of the Baldwin City Community Development Committee she heads, Baldwin City Councilwoman Bonnie Plumberg said Peach Madl, who owns The Lodge with her husband, Ted, presented the committee with a business plan to add 12 recreational vehicle camp sites at the motel on U.S. Highway 56.
City Administrator Chris Lowe, who is on the committee, said the plan included a number of public financing pieces, including $10,000 loans from both the city and Douglas County and $5,000 grants from the Baldwin City Economic Development Council and Baldwin City Tourism Council. The city loan would have a 10-year term and 4.5-percent interest rate, he said. He noted the city council approved a $30,000 line item for economic development in the city's 2012 budget.
The Madls also would seek $25,000 from a revolving loan program offered in Baldwin City, Eudora and Lecompton through NetWork Kansas. The three Douglas County communities agreed last year to become enterprise communities in the state-created organization that aims to promote small-business growth. The state funds the program by awarding tax credits to participating communities, which in turn sell the credits to get the cash needed to fund the loan program.
Lowe said $25,000 is the maximum loan available to a single project. Members of a board representing the three communities consider loan applications, but members do not vote in the applications from their home cities, he said.
Councilman Shane Starkey, a member of the committee, said the "conservative" business plan Peach Madl presented estimated the RV park would need a 20 percent occupancy rate to break even.
The park would fill a recognized need in the community for additional lodging on such occasions as Baker University's homecoming weekend and the Maple Leaf Festival, Starkey said.
The committee unanimously voted to recommend the council approve the loan. However, Lowe said the council shouldn't make a decision until the other pieces of the business plan moved forward.
Lowe said the city was working with Peach Madl on an ordinance regulating the RV park. It would include provisions preventing the long-term parking of RVs at the site. Peach Madl has proposed stays be limited to an initial 30-days with an option for another 30-days, he said.