Baldwin tracksters do well at Wichita meet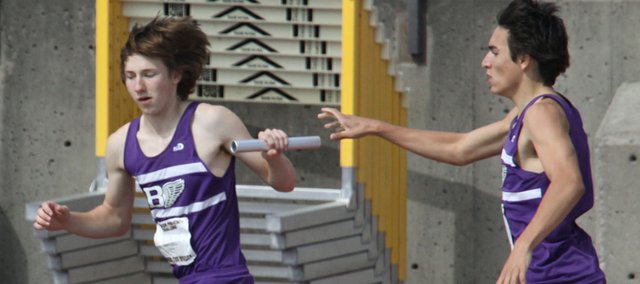 Baldwin High School throwers and relay teams once again proved last weekend they were among the state's best at the Shocker Pre-State Challenge in Wichita.
The meet, which drew 60 teams from Kansas and Oklahoma, allowed Bulldog athletes to compete in an open elite competition of all top performers or contests with those from 4A to 6A size schools.
Junior Katie Kehl continued her early season run of success with a gold-medal performance in the shot put with a throw of 43-4.5, breaking her own school record, and a third-place finish in the discus (119-1) in the elite competition. Jordan Hoffman won the 4A-6A discus with a throw of 110.
Dayton Valentine earned second-place in the elite shot put and discus, a personal best. The junior said his shot put effort would have been a personal record had it not been for his performance the week before in the Baker Relays when he had four throws of more than 55 feet and established his personal mark of 56-0.3, all of which would have won the Wichita meet.
The girls 4 by 400 meter and 4 by 800 meter relay teams recorded their best times of the year. Running in the elite competition, the 4 by 400 team was second (4:07.53) 4 by 800 team of Elena Watson, Elizabeth Sigvaldson, Kaitlyn Barnes and Glenn Kelly McCabe finished third (9:55.38). McCabe won the 4A-6A 800 meters with a time of 1:01.08.
"Baldwin tracksters did themselves proud in Wichita," girls coach Ted Zuzzio said. "We earned 21 medals, so we competed great."
Boys coach Mike Spielman was equally pleased with his team's effort. The boys relay teams also put up their best times of the year and the 4 by 800 team had the best time of any Baldwin team in two years, he said.
The boys team of Tosh Mihesuah, Ethan Hartzell, Joe Pierce and Darius Johnson finished third in the 4 by 800 meter relay (8:32.98) and the team of Chad Berg, 1
The teams will have a busy week, starting with a meet today in Eudora. A number of athletes will compete in the KU Relays this weekend, including Kehl in the shot put, in the steeple chase, Valentine in the shot put and discuss, Mihesuah in the 2000-meter steeple chase, Asher Hannon in the 100-meter dash and the 4 by 100 and 4 by 400 meter relay teams.
Other Baldwin results were: Sienna Durr (13:07) second and Abi Hartzell (13:12) third in the 4A-6A 3,200 meters, Katie Jones ( 8-0) in the 4A-6A pole vault, Austin Kraus (16.24) fifth in the 4A-6A 110 meter hurdles.