Baldwin Scout food drive successful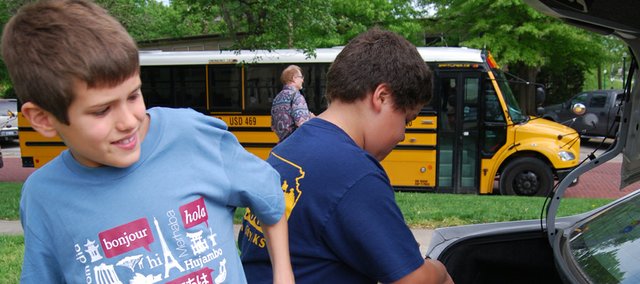 About 1,600 food items were donated to the Community Food Pantry at Baldwin First United Church during Saturday's annual Scouting for Food Drive.
The drive, which local Boy Scouts, Cub Scouts, Venture Scouts and Girl Scouts conducted, is an annual event in which the Scouts go door-to-door in Baldwin City, handing out bags and hanging fliers with a list of needs for the food pantry. A week later, the Scouts pick up the food items and deliver it to the pantry.
After checking expiration dates and sorting the food, the Scouts help stock the shelves of the pantry.
"It's really important for us to do it because the pantry about this time gets kind of barren," food drive coordinator David Simmons said. "(The pantry) feeds 150 people a week, so it's important for us to restock."
The Scouts got to see the food pantry and learn about what it provides to local residents.
"The kids have a sense of feeling that their service is definitely needed and that's what we instill," Simmons said. "We say we're going to help other people at all times."
Students from Baker Serves the Big Event helped collect and sort food Saturday. Baker University greek life helped stock the pantry shelves and will have its own food drive competition between greek houses for Greek Week.
Simmons said food collected Saturday will last three or four weeks.
"The Scouts are kind of the deliverer but it's the citizens of Baldwin that are the donors, so we appreciate all our donors," Simmons said.