Baldwin City Sixth Street project to start April 24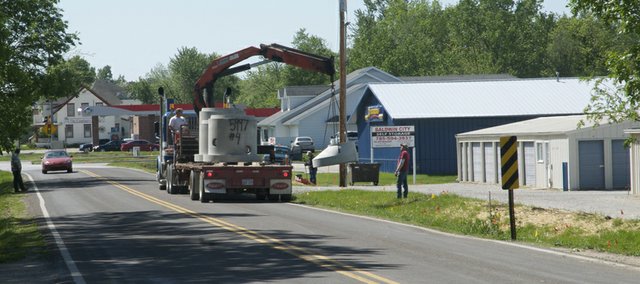 Barricades will go up Tuesday as work starts on the first phase of the $2.18 million North Sixth Street project.
Baldwin City Administrator Chris Lowe told the Baldwin City Council Monday signage on how to access Sixth Street businesses from U.S. Highway 56 to Fire Tree Avenue will be in place when construction starts.
The city and Douglas County are splitting the cost of the project to add a third lane and curb and guttering to the street from U.S. 56 to Douglas County Route 12. Work is to be completed by Thanksgiving. The city is also spending $187,000 to add a 10-foot sidewalk on the street's east side and a 5-foot sidewalk on the west from the highway to 400 Road.
The county will apply a dust-control chemical later this week to 1750 Road in anticipation it will be a commonly used deter during the construction, Lowe said. Asphalt milling from Sixth Street will also be spread on the northern section of the road near Route 12, he said.
In other business, the council:
• Approved a $4,700 contract with Titus B Co. of Lawrence to design and host a new Website for the city. Lowe said Website could be online in two months.
• Approved final expenditures for high-efficiency LED lighting purchased with part of the $100,000 the city won in last year's Take Charge Challenge. It is estimated the new lighting downtown and along High, Eighth and Sixth streets will use 50 percent less energy. Lowe said $11,000 left over from the prize money would be given to the Baldwin school district to buy more high-efficiency