Lumberyard Arts Center volunteers planing for Smithsonian traveling exhibit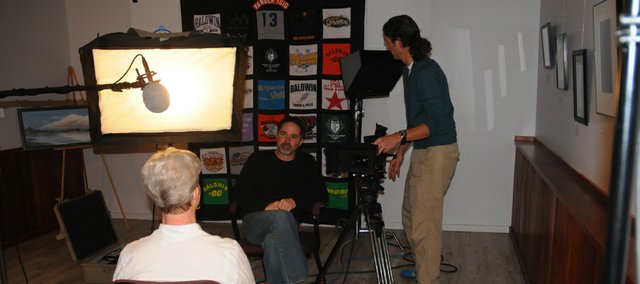 Its opening is nearly a year away, but planning has started at Lumberyard Arts Center for a traveling Smithsonian Institute exhibit.
From March 23 to May 5 of next year, the arts center will show the Smithsonian's "The Way We Worked," exhibit. Through photographs and video and audio clips from the National Archive, the exhibit tells the story of the American workforce and workplace and how both have changed over time.
The tour is a partnership of the Smithsonian and the Kansas Humanities Council, said Tracy Quillin, humanities council communications director.
"We've been working with them for about 10 years, bringing their traveling exhibits to host," she said. "The exhibit is designed for communities of less than 20,000 population, so smaller communities can have access to Smithsonian resources."
Baldwin City was one of six towns selected as a host site for the tour, which will open Sept. 8 in Lyons.
"We had 36 communities apply to host and only six chosen," Quillin said. "It's a pretty exciting thing for all our hosts and for us, too."
As preparation for the exhibit and to commemorate the Kansas Humanities Council's 40th anniversary, the Topeka film crew Gizmo Pictures visited the Lumberyard last Thursday to tape interviews with a number of local residents.
Among those interviewed were Tony Brown, president of the Lumberyard Arts Center board, and Diane and Jim Niehoff and Paula Johnson, the three arts center board members coordinating the exhibit.
The five-panel traveling Smithsonian exhibit will be on display in the art center's central lobby, Johnson said. The gallery to the north will have a display examining the tour's theme from a local perspective, and a video of local recollections, including those taped last week, will be play in the south classroom, she said.
"It (the gallery) will tell the story of how Baldwin has changed from an agricultural community, to a railroad community, to the bedroom community we are now," Johnson said.
Jim Niehoff said the gallery display would include ledgers he found in the Lumberyard's upper walkway while he led the construction committee that renovated the building. Baker University student Jessica Brennan has taken on the project of examining the ledgers and presenting the information they contain for viewing, he said.
The ledgers add legitimacy to the Kansas Humanities Council selection the Lumberyard Arts Center for the tour, Quillin said.
"The Lumberyard Arts Center seemed an ideal venue for a history of work and working, given its history," she said.