Baldwin track and field teams stay strong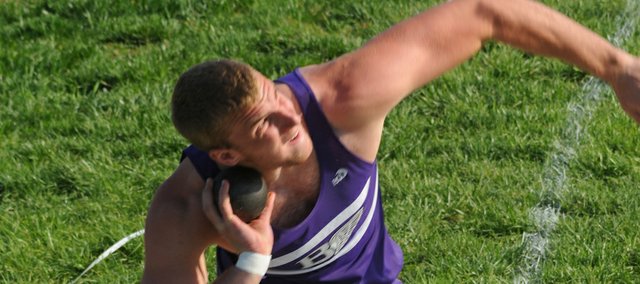 Led by strong performances in throwing and relay events, the Baldwin High School track and field teams earned first- and second-place finishes Tuesday in the Baker Relays.
The girls took home first place with 189 points, easily outdistancing second-place Christ Prep of Lenexa, who finished with 124 points. The boys finished with 98 points, tying for second place with Blue Valley West and behind the 157 points champion Bishop Miege scored.
Perhaps the highlight of the day was the performance of Dayton Valentine in the shot put. The Bulldog junior won the event with a toss of 56 feet 0.3 inches, and had three of his other throws exceed 55 feet. It was an effort that impressed his coach.
"That was huge," boys coach Mike Spielman said. "With four throws going more than 55 feet, that shows you can count on him to be consistent."
Also bringing home gold in a throwing event was senor Jake Mindez in the javelin, with a throw of 158-7.
Valentine finished second in the discus, and Mindez added a third-place finish in the shot put.
Junior Katie Kehl continued her remarkable comeback from a knee injury that prevented her from competing as a sophomore, winning both the shot put with a throw of 41-5 and the discus. She won the latter despite fouling on four of her five attempts. It was an all-day struggle for Kehl, who also fouled twice in the shot and javelin, in which she finished fifth.
"No, I'm not at all happy with that," she said of her discus effort. "You would love to get a personal record every meet, but that's not realistic. But I need to get more consistent.
"But if getting first in the shot and the discus and whatever I finished in the javelin helps the team win, I'm happy with that. We want to keep the streak going."
The only track events not contested a relays were the steeplechase and hurdles. Baldwin senior Abi Harzell won the girls steeplechase with a time of 8:15.10, while sophomore teammate Ashton Temple finished fourth.
The girls team of Elena Watson, Kaitlyn Barnes, Elizabeth Sigvaldson and Glenn Kelly Mc Cabe won the 4x100 and 4x400 relays and the 4 by 800 team of Barnes, Sigvaldson, Carol Whaley and Hannah Hutton won gold. The throwers relay, a specialty event at the Baker Relays, also finished first.
"All our normal relay teams had PRs today," girls coach Ted Zuzzio said. "We competed well. We had some young kids really step up for us today."
Among those were sophomore Hannah Hutton, as well as freshmen Maddie Ogle and Corey Valentine, who finished second, third and fourth, respectively, in the 300-meter hurdles. Ogle also earned bronze in the 110-meter hurdles.
The boys also enjoyed success in the relays. The team of Tosh Mihesuah, Ethan Hartzell, Joe Pierce and Darius Johnson won the 4x800-meter relay. Chad Berg, Mihesuah, Joel Halford, Asher Hannon. were first in the 4x100 and 4x400 relays.
Spielman and Zuzzio said the Baker Relays gave more athletes a chance to compete against quality competition and allowed runners to try distances they usually don't run.
The next meet for the teams — the Wichita Pre-State Classic Friday and Saturday in Wichita — is much different in that only a school's top-two athletes in each event will compete. The coaches said they would be competing against many 5A and 6A teams.