Baldwin soccer blanked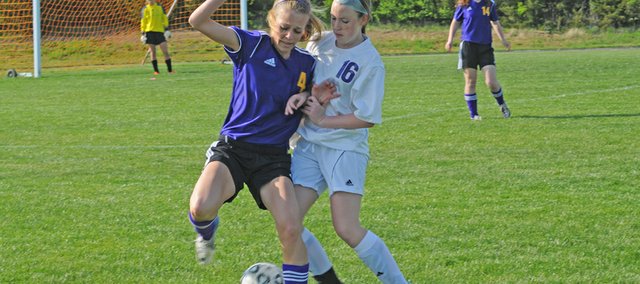 The Baldwin High School girls soccer team was shut out, 4-0, on Monday in its only action of the last week.
Visiting Spring Hill scored two goals in both halves of the match.
"We had a couple of shots on goal, but not very good ones," Baldwin coach Erryn Kindle said.
The team is now off until Friday when it will travel to Leavenworth to the play the 6A team. Kindle said he will work on offense in preparation for the game.
What the team needed to improve was movement away from the ball, better passing and attacking as a team, Kindle said.
"We've got to where we're defending as a team, and we're trying to work on attacking as a team," the coach said. "That's what we will be working on in practice, so that one player — no matter who that forward is — isn't attacking alone.
"To attack and play well, the defense has to support that. We just need everybody, including the defenders, to be in on the attack."
The team was missing juniors Jessie Katzer and Mika Conath, who participated in Tuesday's Baker Relays.
"Jessie's a big part of our varsity line," Kindle said. "The players who filled in for her did a good job, but we did miss her."
After the Leavenworth game, the team will return to action Monday with a match against Tonganoxie.
"We'll have some smaller teams week," Kindle said. "Team we should be able to compete with and, if we play well, beat."