Baldwin City Police Department acquires Hummer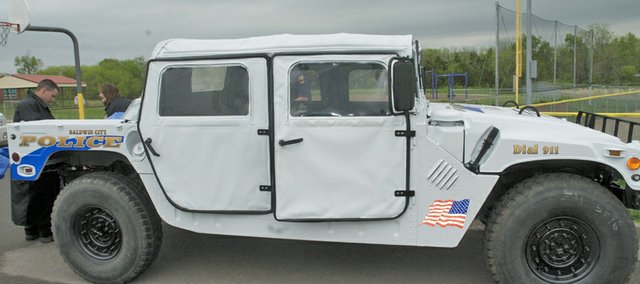 The Baldwin City Police Department has a new tool to help the department and community cope with extreme weather.
"It's for when we need a four-wheel drive," Police Chief Greg Neis said of a 1992 Army surplus Hummer. "Not this winter but the two years before, there were blizzards when we needed a four-wheel drive to get around.
"We figured going this route was a whole lot cheaper than spending $30,000 to $40,000 on a new four-wheel-drive vehicle."
The city got the Hummer from the federal government through a state agency, which matches the needs to local jurisdictions with surplus military equipment, Neis said. The city has spent $6,500 on the Hummer, which included $1,700 for the state agency's administrative cost for providing the vehicle, he said.
The other costs to convert the Hummer for city use were a paint job by students at Eudora High School vocational technical school, a docking port for hand-held department radios and sirens and lights.
Neis said he is searching for a hard top and doors to replace the canvas ones now on the Hummer.
"That will make it a little more weather tight, but right now it's functional," he said.
The Hummer's odometer reads 26,000, which Neis believes is accurate.
"I'm having somebody try to find the maintenance records on it, but I'd be surprised if it turned over," he said. "It's pretty tight.
"It appears to have belonged to the Kansas National Guard. As near as I can tell, it never left the state of Kansas."
Neis said the Hummer was still running on the same diesel it had in the fuel tank when it arrived, so he hasn't had the chance to check mileage. But he said the vehicle's probable fuel-thirsty performance and bare-bones appointments make it unsuitable for patrol.
"It's not something you would want to spend eight hours in," he said. "But if you want to get somewhere and conditions are bad, it'll get you there."