Baldwin City man working to restore Victorian house to former stately condition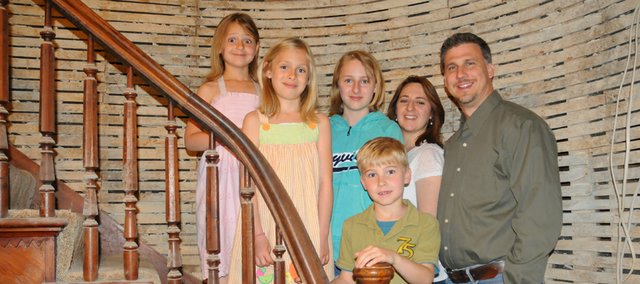 Standing in a second-floor room with walls stripped to the two-by-fours and exterior sheeting, Kevin Hafer marvels at the stained-glass window in what he says will be his son Lucas's bedroom.
It's not the only stained-glass window in the house, but it's the one Hafer plans to preserve as he renovates the 108-year-old Queen Anne Victorian house on the southwest corner of Eighth and King streets.
"It's so cool; I have to keep that," he said. "I think you have to. You can see it from the front. It's one of the character things of the house you have to preserve.
"It was a stately house once. It will be again."
The window is one of the obvious details the craftsmen of local builder J.W. Spurgeon added to the house in 1904 when it was built for J.H. Allderdice. Other details that excite Hafer, such as the wall niche Hafer exposed when stripping the walls of a curving stairwell to the second floor and the oak floor in the master bedroom laid in a herring-bone pattern, were covered up during later remodeling.
Hafer has owned the house since 2006. It caught his eye when he first started looking for a home in Baldwin City after moving back to Kansas from Iowa.
"I lived in Overland Park for six months, but I was looking for a smaller town to live in," he said. "I just fell in love with Baldwin with the brick streets and all the maple trees."
When Hafer first saw the house, it wasn't for sale. He saw a "for rent" sign in the yard and called the owner. He arranged a viewing of the house, which was then divided into apartments. Hafer said he knew the house would need a lot of work, but he was confident he could handle it.
"I grew up in an old house," he said. "We always had an old room we were working on. I helped my dad fix up our house. I learned plumbing, electrical and woodworking from him.
"I paid a plumber to do four hours of work on this house. Everything else I've done myself with a lot of help from friends and family."
Particularly helpful is his father Carl, who does renovation work despite knee transplant operations, Hafer said.
When Hafer bought the house, he planned to renovate it while living in a cement-block wing added to the south side when it was converted into a nursing home.
But when he found the addition unlivable, he jacked up the house, tore out the old limestone foundation and replaced it with a basement in which he now resides.

"Renovating a house like this is a marathon," he said. "But it's also a series of sprints. We finished one sprint when we finished pouring the basement. That was a big one."
Unforeseen developments
The marathon got a little longer when Hafer, a manufacturing engineer, lost his job when Sauer Danfoss Inc. closed its Lawrence operation in 2009. He found work renovating and remodeling the homes of others but his finances slowed work on his home.
Good fortune came in late 2010 when Hafer found work in his profession at Marley Cooling Towers in Olathe. He is also in a growing relationship with Sharon Fritzsche, who shares his vision for the house. She admits her first impression was the renovation would take a lot of time and effort.
"But I could see the potential" she said. "I like old houses, and Victorians have always been my preferred style. I could see where the beauty would be."
With the basement finished with modern plumbing and heating, which will eventually serve the entire house, Hafer has turned his attention to the upper floors, both with 1,300 square feet. His goal is to renovate the three bedrooms and common bathroom on the second floor and then move to the living areas and kitchen on the first floor.
"Ideally by the end of the year, we'll have the second floor done," he said. "The master bathroom might have to wait, but that will give us bedrooms, and I already have a functioning kitchen and bathroom in the basement."
In preparation for the work, all the interior wood trim has been removed, the walls and ceilings of upper two levels and attic have been stripped, failing walls have been reframed and the two-by-eights glued and nailed to the joist of the second floor to make them more stable.
"I did that over the winter," he said. "When I look at it, I think progress has been really slow. But I when the many people passing by come in to take a look, they say, 'Wow, you've done a lot of work.'"
Although Hafer plans to keep the exterior as close to its original appearance as possible, he will make modifications to the interior as a concession to past changes and modern comforts.
"It's going to be a cross between a 100-year-old Victorian and a new home with modern amenities," he said. "It will be the best of both worlds."
Doing it right
He's had a good relationship with city building inspector Tina Rakes, but Hafer said there was now some desire from the city that he make greater progress on the house's exterior. He would like to delay rebuilding the porch, reclaiming the original siding and painting the house until after he has finished the interior.
""I may have to do some of it just to make it weather tight," he said. "That's negotiable. But the upstairs is the first priority.
"It takes time, but I doing it right and not taking any shortcuts."
The house is commonly known as the purple house for the multiple shades of that color it was painted during the 1990s. Despite Hafer's bachelor and master's degree from Kansas State University, purple is not in the house's future. He and Fritzsche are exploring other Victorian color schemes for the house's exterior.
The "ugly" addition, also painted purple, will be torn down once the renovation in done, Hafer said.
It has been and will be an expensive project, but Hafer said one that would pay off in the end.
"It will be worth a lot more than I have into it," he said. "I won't have spent as much as on a new house, but that's with all the work I'll have put into it. And a new house wouldn't have as much character.
"It was a stately house once. It will be again."