Baldwin City Community Theatre needs help solving murder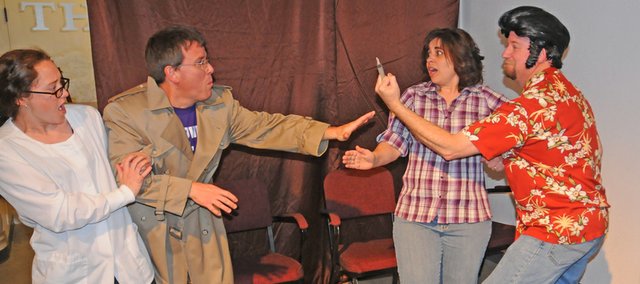 he Baldwin City Community Theatre players are taking a page from Crimestoppers — they want help with a mystery and there's a reward for the person who solves it.
The company will present the mystery spoof "Murder in the Lumberyard" at 7:30 p.m. Friday and Saturday at the Lumberyard Arts Center, 718 High St. Tickets are $12 at the door.
"It's one of those murder mystery things," said Joe Bathke, who plays Detective Horace Scope in the play. "The title is 'Murder in . . . fill in the blank.' Because we're doing it in the Lumberyard, it's 'Murder in the Lumberyard.'"
Marion Constantinescu plays Madame Zodiak, a flamboyant astrologer giving a lecture. She is accompanied by her much younger husband, Taurus (Doug Cheek) and wallflower assistant Gemini Schwarz (Shelly Todd).

"As soon as Madame Zodiak starts talking, Dr. Libra Turnbull starts heckling her, calling her a charlatan and a fraud. " Bathke said. "She isn't buying any of her stuff.
"Somebody dies — I can't tell you who — and the rest of the play is trying to figure out who did it."
The audience gets involved, too, Bathke said.
During the intermission between the play's two acts, audience members will be invited to review the clues and question cast members. They will then write down a suspect, and one audience member with the right name will win a prize, Bathke said.
The play is contemporary with references to current happenings and Baldwin City sprinkled throughout, Bathke said.
"It's quite fun," he said. "I'm not going to make any pretense this is serious thespian theater. We're basically getting up there and hamming it up.
"And you get to see Marion in a dress, so it doesn't get better than that."
Constantinescu said it wasn't the first time he's appeared as a female, but he warned people might want to take advantage of the opportunity to see him in drag.
"Unfortunately, it isn't the first time I've played a female," he said. "I'