Baldwin district cook makes whole-wheat treats for students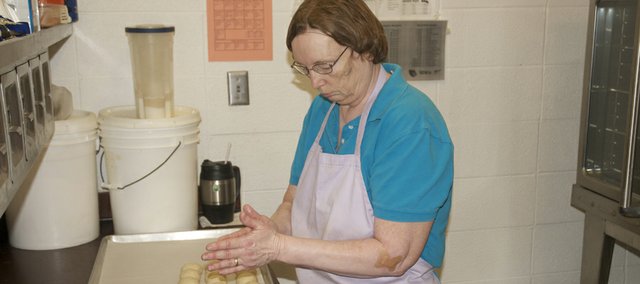 The mouth-watering smell Monday in Baldwin Junior High School led to what Mary Ruppert said was her "little corner of the world."
The space, about the size of a basketball free-throw lane, is bounded on one side by ovens and on another by a long worktable. A large industrial mixer and cooling racks filled with fresh-baked rolls define the entry to the baking area.
On a warm day like Monday, it's hot in the confined space. But Ruppert didn't appear to notice as she filled tray after tray filled with doorknob-sized balls of raw dough she placed in the ovens, while replacing those of fresh-baked rolls she stacked on cooling racks.
She would bake 450 dinner rolls Monday morning, which will not only find their way to the lunch tables in all the district's schools. This year, all the baked goods served in the district originate in Ruppert's space.
"The days I do rolls, I come in about 5 in the morning, make about 450 hot rolls and then make eight-and-a-half bowls of pumpkin bread," she said. "After I get the rolls done, I take them to the high school and elementary schools and then come back to the junior high.
"I love it. I'm fortunate to get to do something fun I love to do."
This is Ruppert's first year in her current role, said Julie Henry, district director of food service. She had been the cook of Marion Springs Elementary School for four years before it closed at the end of last school year because of budget constraints.
Ruppert was then hired for her current position, and her baked goods replaced those the school purchased from an outside vendor and delivered to schools.
Before the year started, Henry had her bake menu items the Kansas Department of Education suggested for school lunch menus.
"She came in before the year started and did a trial run," Henry said. "I love them. They are significantly better than what we were serving before and much fresher and healthier."
That trial run became the basis for Ruppert's three-week baking rotation that includes hot rolls, cinnamon puffs, bread sticks, Italian dunkers, French Bread, chocolate chip cookies, pumpkin bars and cherry crisp.
In a departure from the district's past baked goods, all the items Ruppert bakes contain whole-wheat flour.
"I use approximately 300 pounds of flour a week," she said. "More than half of that is whole wheat.
"Actually, it's coming from the state. It's not required right now, but Julie wanted to get a jumpstart on it. I don't even think the kids notice because we use the white whole wheat."
It's a bit trickier to bake with than white flour, Ruppert said.
"It does rise faster," she said. "If it gets ahead of me, it's not as smooth."
A greater emphasis on healthy and fresh foods are trends she's noticed since she first started working in school lunchrooms in her hometown of Iola 23 years ago, Ruppert said.
"I think we are making more things from scratch," she said of the changes she's seen in school lunchroom kitchens. "We're incorporating more fresh fruits and vegetables — more whole grains. We're getting more back to basics."
Ruppert said she started working the Iola school lunch program as a ticket puncher because she wanted to work near the youngest of her seven children. Her role increased, and she left the district as a full-time employee helping the district's food service supervisor.
She was applying skills she learned helping her mother in the kitchen growing up and baking for her husband, Gordan, and the couple's seven children.
"I did a lot of baking when my kids were growing up," she said. "I try to have cookies and things now when the grandchildren visit."
She started working at Marion Springs when the couple moved from Iola. She did it all, baking and cooking, but it wasn't too bad because there were only about 100 students.
The intimate setting allowed for family style dining, with food served in bowls on lunch tables for the students. It was a much different job than the one that keeps her busy in her corner.
"One thing I miss about Marion Springs is I got to know the kids, the little ones especially," she said.