Baldwin softball team sweeps Ottawa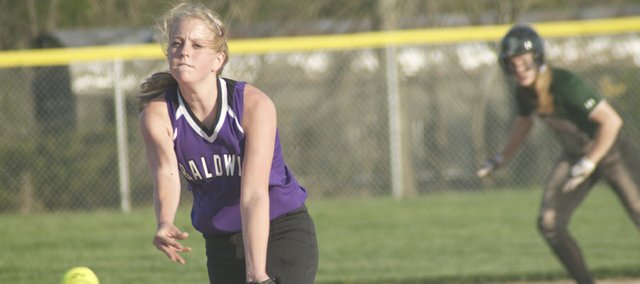 Madeline Brungardt turned around the fortunes of the Baldwin High School softball team at an opportune time.
The Bulldog senior shortstop came to bat in the seventh inning of Tuesday's first game of a doubleheader with runners on second and third and her team trailing, 2-1. To that point, it had been a frustrating game for a Baldwin team who had stranded seven runners on base through the first six innings.
Brungardt changed that with a solid single to left field, which scored Kaitlyn Jorgensen and Sierra Hall. Brungardt reached second when an Ottawa outfielder misplayed the ball, stole third and scored when Hailey Cope grounded out.
Pitcher Katie Pattrick shut down Ottawa in the bottom of the seventh, giving the Bulldogs a 4-2 victory.
"She came through for us," Baldwin coach Ginger Crist said of Brungardt. "That got us started."
Jorgensen started the seventh inning with an infield single and took second when Hall's Texas leaguer dropped between the Ottawa third baseman and left fielder. The two Bulldogs then executed a double steal, part of a strategy the team employed throughout the double header.
"We noticed watching her warm up (the Ottawa catcher) she didn't have much arm strength," Crist said. "This is one of the fastest teams we've had in a long time. That makes a big difference, too."
Baldwin's first run of the game in the sixth inning was a successful example of small ball. Cope led off the inning with single to center field, stole second, advanced to third on a ground out and scored on Kaysha Green's sacrifice bunt.
The team didn't need to scrap to manufacture runs in the second game, winning 16-8.
"We relaxed," Crist said. "We knew we could come back and beat them. When it was tied, 8-8, I told the girls we couldn't be satisfied with that. We relaxed and started hammering the ball.
Pattrick picked up a complete-game victory in the first contest and got the win in the nightcap in relief of Hayley Swartz.
The sweep of Ottawa, picked to compete for Frontier League crown, was especially sweet because of the team's disappointing start Thursday at home against De Soto, last year's league champion.
The Bulldog bats were most silent against De Soto pitcher Sophia Templin, and fielding miscues put the team in the hole early in both games. Crist said her team responded with great practices and a positive attitude.
Baldwin next plays Thursday at Wellsville. The first game of the doubleheader starts at 4:30 p.m.
The junior varsity split Tuesday in Ottawa, winning the first game, 10-4, before dropping the nightcap in eight innings, 10-9. The team opened with a doubleheader sweep of De Soto, 20-9 and 13-6.