Baldwin City Council approves Six Street project bid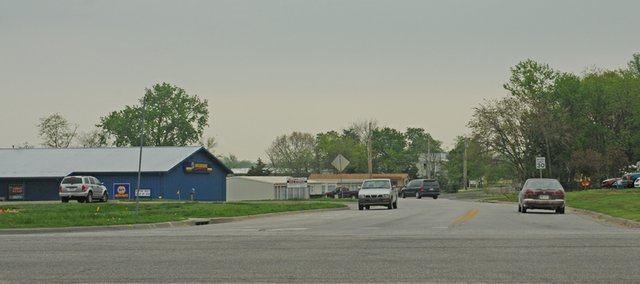 The Baldwin City Council approved Tuesday a bid for the North Sixth Street project that will cost the city and Douglas County about $900,000 less than the engineer's estimate.
The council approved R.D. Johnson Construction's bid for $2.181 million to replace the existing two-lane street from U.S. Highway 56 to Douglas County Route 12 with a three-lane street with curb and guttering. With the city and the county each paying 50 percent of that cost, the city's share for the street improvements will be $1.09 million.
"We came out real well," Baldwin City public works director Bill Winegar told the council. "It's $479,000 below what the estimate was last year."
The city will also pay $187,439 to add a sidewalk on the east side of the street from U.S. 56 to Rte. 12 and a five-foot sidewalk on the west to Douglas County 400 Road. That was far lower than the $400,000 estimate for that work and allowed the council to approve an alternate bid to construct the east sidewalk as a 10-foot wide recreation sidewalk.
Other city project costs include $158,000 for design engineering, $37,385 for right-of-way acquisition and an estimated$14,750 for utility relocation, Winegar said.
Approval of the bid was on the Douglas County Commission's agenda for Wednesday, and the Kansas Department of Transportation, which is paying for associated improvements to the Sixth Street and U.S. 56 intersection, also has to approve the bid, Winegar said.
The project's start was delayed four to six weeks because of complications in acquiring easements, Winegar said.
"It'll probably be two weeks before the contractor gets all the construction documents in place," he said. "It'll probably be three weeks before the barricades go up.
"It's going to be a real challenge to get it done this construction season."
Douglas County Public Works director Keith Browning told the Signal last month the bid stipulated the road open to traffic by Thanksgiving.
Businesses on the street section to be improved have been promised alternate access. To lessen the impact to businesses along the street, the work will be done in three phases. The section from U.S. 56 to Fire Tree Avenue will be phase 1 and must be completed before the contractor can move on to phase 2 work, Browning said.
Phase 2 will complete the improvements north to where North 400 Road heads west, and phase 3 with make the upgrades from that point to Douglas County Route 12.