Baker University pastor knows ministry requires different approach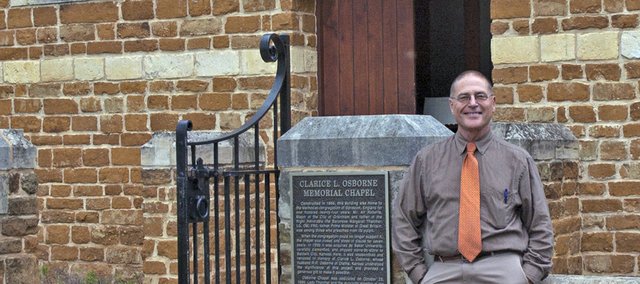 Baker University Minister Ira DeSpain says his ministry at Baker University requires a different approach than the one he had while serving as a community minister.
Baker started the position of university minister in 1988. DeSpain, who had been a pastor at United Methodist Churches elsewhere, took the position in 1991 after his predecessor was assigned somewhere else.
As a graduate of the university, DeSpain already knew the campus well. However, he had to make some adjustments from working in community ministry to campus ministry.
"The reason you go to church (on Sunday) is for religious activity, so that's the central part of why people go to church," DeSpain said. "But people don't come to college because of religious activity; they come to college for an education and religious activity is one of the options that people have. So, one of the adjustments I had to make when I came to (Baker) was the reason for us being here was not religious activity."
DeSpain easily adjusted, even with the change from promoting one form of Christianity to promoting religious diversity on campus. Part of DeSpain's role on campus is to protect the religious rights of all students, no matter what religion they may practice.
"If I was the pastor of a church, the focus would be on one denomination in one brand of the faith," he said. "Here, I get a chance to work in all different facets of the faith."
Although much of the joys, sorrows, hardships and celebrations are the same in a community and college, many of the struggles he sees in the ministry at Baker are normal for college students and he is more than happy to help students through them.
"People who are 18 to 22 years old, that age parameter leads to a faith crisis," DeSpain said. "It's normal, and it's natural. When you get to college you think, 'just because my parents told me so doesn't mean I believe it. I have to come to a decision on my own about where God is in my life how I relate to Christ and how I treat other people.' It has to be a self-determined thing."
Some students who come to his 11 a.m. Thursday service at Osborne Memorial Chapel aren't just struggling to figure out their own faith; some are finding it for the first time.
"There was a student once who asked a fellow student where he would go to learn that prayer that he hears every once in a while, and what he meant was the Lord's Prayer," DeSpain said.
The student had come from a family who wasn't religious. After asking, the student's friend brought him to chapel to help the student understand the prayer and religion.
"As a result of that, I was able to make a connection with that student," DeSpain said. "I saw him develop into a community service person and just expand his life in so many ways that were very positive.
"That's an example of how rewarding (my job) can be."
Even though some of the skepticism about faith can be discouraging, his greatest joy is the students and creating relationships that last more than their four years at Baker, DeSpain said.
"The greatest joy is when I'm able to break through skepticism and connect with someone on a spiritual level," he said. "To know that in some way I made some sort of impression on someone for the faith, what an honor, what a compliment that is."