Baldwin City Council agenda for April 2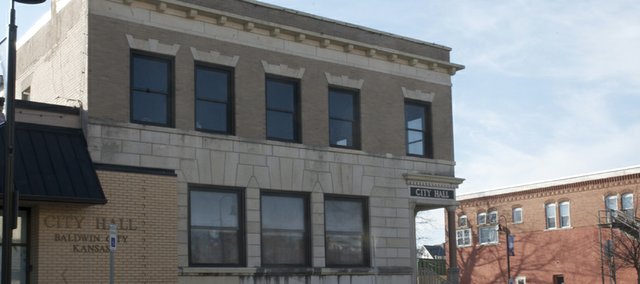 I.  Call to Order:  The Hon. Ken Wagner 
II.  Consent Agenda:  (All matters listed on the Consent Agenda are to be considered under one motion and will be enacted by one motion.  
There is to be no separate discussion on any Consent Agenda Item.  If discussion is desired by an elected official of the City on any Consent 
Agenda item, then that item will be removed from the Consent Agenda and considered separately). 
A. Consider the draft minutes of the March 19, 2012 Regular Meeting. 
B. Consider Appropriation Ordinance No. 2012‐4A: claims against the City for goods provided and 
services rendered. 
C. Consider a Proclamation declaring Friday, April 27, 2012 to be "Arbor Day" in Baldwin City. 
III.  Committee/Commission Reports 
  None 
IV.  Special Reports or Presentations 
None 
V.  Unfinished Business 
None    
VI.  New Business 
A.  Consider approval of engineering services agreement with BG Consultants, Inc. for reconfiguration of the intersection of US 56 Hwy and High St. (Bill Winegar) 
B. Consider approval of engineering services agreement with BG Consultants, Inc. for improvements to Eisenhower Road/E 1750 Rd. (Chris Lowe) 
C. Consider approval of Resolution No. 2012‐03 regarding traffic & parking provisions associated with  the 2012 "Day Out with Thomas" event. (Chris Lowe) 
D. Consider approval of bid for the North 6th Street project. (Bill Winegar) 
E.  Consider approval of continuing services agreement with Springsted Financial. (Chris Lowe) 
F.  Consider Resolution No. 2012‐04 authorizing payment of the costs of improvements to the city 
public water supply system. (Chris Lowe) 
G.  Consider Resolution No. 2012‐15 authorizing the offering for sale of general obligation refunding 
bonds, Series 2012, of the City of Baldwin City, Kansas. (Chris Lowe) 
VII.  Public Comments and Questions 
VIII.  Discussion Items from Council Members or Staff (items not for action at this time) 
  Wabaunsee County, Kansas appreciation letter to Chief Neis 
IX.  Schedule & Announcements (upcoming meetings & events) 
A. Community Development Committee:  4pm, April 9 @ City Hall 
X.  Executive Session (as required) 
XI.  Adjourn