Bulldogs silence Thunder, win 35-21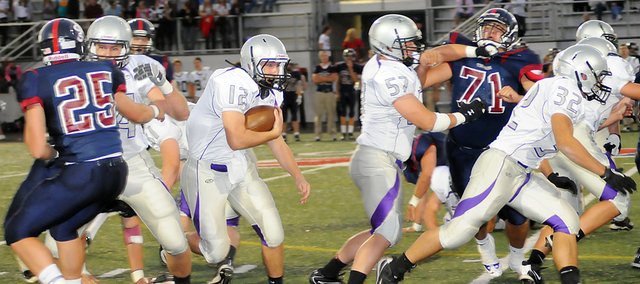 ROELAND PARK — Each time Saint James' football team scored a touchdown Friday night, the Baldwin High Bulldogs answered with one of their own.
The Bulldogs' offense needed to come alive in the fourth quarter when St. James scored a pair of touchdowns in less than one minute. An 80-yard run by BHS sophomore Chad Berg separated those scores and kept Baldwin's lead.
A final BHS touchdown by Berg with 3:00 remaining in the game all but sealed the deal. An interception by Baldwin's Will Simmons did seal the victory. Baldwin (3-2) beat the Thunder (3-2) 35-21.
"It's a huge win against a great team," coach Mike Berg said. "They knocked off Louisburg and Eudora early in the season. They run a scary offense and can score at any moment. I'm proud of our guys. We fought the whole game."
St. James converted a third-down attempt for a touchdown on the first play of the fourth quarter. Matt Eckleman caught a 9-yard pass from Alex King for the score.
Two plays later, Berg cut through the Thunder defense on an 80-yard run. St. James' Bryan Eisman took the ensuing kickoff back 92 yards for a touchdown. With 10:49 remaining in the game, Baldwin led 28-21.
Junior Dayton Valentine scored twice to help the Bulldogs build a 21-7 lead early in the third quarter. Sophomore Cornell Brown scored on a long touchdown for the second straight week. He caught a pass from Tyler Cawley and sprinted to the end zone on a 67-yard play.
Baldwin will be back at home next week to face Louisburg, while the Thunder will play Paola.
Score by quarter
B — 7 7 7 14 - 35
SJ — 0 7 0 14 – 21
Scoring summary
B — Dayton Valentine 2 run (Austin Kraus kick)
SJ — Alex King 1 run (Will Frank kick)
B — Cornell Brown 67 reception from Tyler Cawley (Kraus kick)
B — Valentine 1 run (Kraus kick)
SJ — Matt Eckelman 9 reception from King (Frank kick)
B — Chad Berg 80 run (Kraus kick)
SJ — Bryan Eisman 92 kickoff return (Frank kick)
B — Berg 1 run (Kraus kick)