Circuit-riding minister brings word of God to Worden
UMC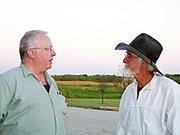 Rev. Ken Downey arrived at Worden United Methodist Church with a Bible in his belt and a smile on his face for Tuesday night's hot dog roast and homily outside the church.
A smile wouldn't seem unusual for a preacher, but Downey had spent his full day, and most of the past 35 days, riding a horse with a single idea in mind.
"Sharing the good news, the Gospel, with people and see them embrace it," Downey said. "Or come away knowing more of that message and realizing it is by grace."
Downey is a circuit-riding preacher from Minnesota who is making his fourth trip from the Canadian border to the Gulf of Mexico.
"His whole stated purpose is to try to bring the country closer to God," said Rev. Bud Tuxhorn of the Worden United Methodist Church.
Circuit riding is traditional way for ministries to spread the word of God. The preacher starts in a specific location and plans his stops to his final destination. The trip is usually some sort of cross-country one, and each stop is at a church or ministry.
During the trip, days are long with rides that can be anywhere from 30 to 50 miles.
"You get hardened into it and then it's OK. It wears if you don't get enough time off," Downey said.
Downey rides Monday through Saturday with a day for resting on Sunday. Families provide him and his horse with meals and a place to stay.
When Downey reaches his destination every evening, he takes the time to speak with the host congregation.
"I like to tell a couple stories about circuit riders, and then we'll look at some things in the scripture," Downey said.
Although the tradition stretches back to America's frontier, circuit riding has somewhat changed.
"2009 was the first time I had a cell phone," Downey said.
Downey used to have to find a pay phone to make calls during his riding trips. One of his memories was when he was standing in the phone booth, holding his horse outside the stall while the horse chewed grass, and the phone going completely dead.
"I looked outside and he had clipped the wire when he was eating," he said.
Downey
Despite being away from his wife, Carolyn, and his ministry in Minnesota, Downey likes the circuit-riding experiences.
"There isn't any negatives and even if people struggle (with God), that isn't a negative to me," Downey said.
His favorite parts about the trips are the people he meets, whether they be his host family or someone at a congregation where he give a homily. Downey said there is never enough time to really get to know all the people he comes across during his journeys.
"I think it is a tremendous privilege to be able to do this," Downey said. "The hardest part is riding away."
For more information about Reverend Ken Downey and his work as a circuit-riding preacher, visit Trailsideministries.com.