Bulldogs avenge loss, topple Broncos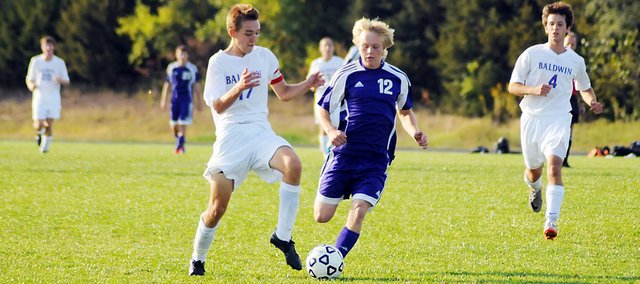 Mark Joslyn was all smiles Tuesday afternoon following the Baldwin High School varsity boys' soccer game against Spring Hill.
Joslyn's Bulldogs avenged one of its two losses this fall and defeated a team that had Baldwin's number during the past two seasons. After four-straight losses to Spring Hill, the Bulldogs came out victorious Tuesday, winning 2-1.
"It's a good feeling to beat them after we lost to them three times last year and once this year," junior Mason Bandre said. "It's also nice as the keeper to give up just one goal."
Baldwin was scheduled to play at Spring Hill on Tuesday, but the first contest, which was scheduled to be played at BHS, was moved to Spring Hill earlier this month. An excessive heat warning forced school officials to move the game to Spring Hill, so it could be played at night.
"We should have had them at Spring Hill," Bandre said. "If you look at the stats, we beat them in everything but the score. So it was nice to beat them at home."
The Broncos won the first game 3-2. Baldwin had many chances to score, but struggled to finish. Meanwhile, the Broncos scored two goals during the final five minutes of the first half.
"It feels really good to get this win," Joslyn said Tuesday. "I think the boys deserved it. I felt they deserved it the first game. We scored early in both halves and played terrific defense all game. We kept them out, even when they had a lot of set pieces. Mason played a terrific game. Our center-backs played well, too."
Bandre, the Bulldogs goalkeeper, allowed only one goal Tuesday. He stopped around two dozen shots by Spring Hill. Some of those required a timely jump to catch the ball or diving stop. Bandre even jumped and punched a ball in mid-air after a Spring Hill corner kick.
"Since I play club ball, I've learned some things that I can improve upon," Bandre said. "The things I did well far outweighed the things I need to improve on."
Baldwin nearly closed the door completely late in the game. BHS took several shots during the final five minutes, but were unable to score. Sophomore Russell Cloon, senior Louis Joslyn and senior Caleb Michels took shots during that stretch, including one play where Cloon and Michels each took a shot, but Spring Hill defenders blocked the shot.
"That would have put the nail in the coffin," Joslyn said. "I'm not sure how that guy got that one. It was a terrific stop. We still had some good chances to score down the stretch."
It was Cloon's goal in the second half that was the winning goal. He scored less than one minute into the second half.
"That feels good, because we have an early lead," Bandre said. "But it's also pressure on me because now I have to play the whole half and try to not let anything past me. I like it, but it can be tough."
Spring Hill tied the game during the middle of the first half. With 21:45 left in the half, the Broncos crossed the ball from the sideline and kicked it past a lone Bandre.
Baldwin's first goal also came quickly into the first half. L. Joslyn scored around the nine-minute mark. Michels earned the assist on the play.
"We got some timely goals from Russell and Louis," M. Joslyn said. "We had a lot of shots and opportunities. When we didn't get those, we didn't panic. Our energy stayed high and that was the key."
The Bulldogs' coach thought his team played too rushed during the first half, so they slowed down and played more of a possessive game in the second 40 minutes.
"Spring Hill plays a high defensive line, so they allow you to kick over the top," Joslyn said. "Our right mid was wide open, so we kept trying to get it to him. At halftime, we talked and told them to settle it down a bit, because we were playing into their game. I thought our center-mids, who were Duncan, Nick and Austin Chapman, really controlled a lot of the play, too."
Baldwin will play three games at home next week. BHS will host Basehor-Linwood and Perry-Lecompton at 4 p.m. Monday and Tuesday. Baldwin will play Eudora next Thursday.
"We have some time off here before three games next week," Joslyn said. "We play Monday, Tuesday and Thursday. This win will really help our confidence. This is a great victory for the juniors and seniors, because they've suffered under Spring Hill's dominance."