BJHS

volleyball team combine for 10-0 records at weekend tournaments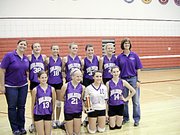 Three Baldwin Junior High School volleyball squads posted 10 match wins at the Eudora and Central Heights tournaments last weekend.
At the Central Heights junior varsity tournament, the Bulldogs' seventh and eighth-grade teams went undefeated against their opponents. In seventh-grade action, Baldwin defeated Anderson County (25-17, 25-23), Jayhawk-Linn (23-25, 25-6, 15-12) and Osawatomie (25-12, 25-24). In the eighth-grade, Baldwin defeated Anderson County (25-12, 25-4), Jayhawk-Linn (25-8, 24-25, 15-6) and Prairie View (25-10, 25-19). Mackenzie Russell was cited as the outstanding server of the tournament by recording 39 of 40 at the line for 98 percent.
"I'm really proud of the kid's hustle and enthusiasm," said coach Susie Martin. "They acted with class and represented Baldwin Junior High in an excellent fashion."
The Eudora tournament saw the BJHS eighth-grade team use outstanding serving to win the title for the fourth-straight year. In the first match of pool play, BJHS faced Tonganoxie and won 25-8, 25-15. Kylee Bremer led the team with five service aces and Emma Burnett recorded five kills.

In match two, Baldwin served 85 percent as a team, which included 16 aces, en route to a 25-15, 25-12 win over Osawatomie. Kyna Smith led the Bulldogs with two blocks and Morgan Voigts and Kelsey Kehl had fives aces apiece.
"The girls' goal is to be serving at 90 percent as a team or more by the end of the season, but we are hovering around the 86 percent mark," coach Brenda Shawley said. "For the tournament we only served 85 percent, but there were several times we were able to place the ball where it was difficult for the other team to play it back. It's nice to see the girls making positive strides in that area."
Spring Hill gave the Bulldogs its biggest test of the tournament, as the match was decided in a third-set tiebreaker. Baldwin jumped out to a 25-23 win in set one, but Spring Hill rallied and won set two 25-22.
With the BJHS down 7-1 in the third set and the Broncos within eight points of the match win, Voigts brought the Bulldogs even with six-straight service points. Baldwin rode that wave of momentum and won 15-11 and was insured a spot in the first-place match. Fayth Peterson led the team with four kills while Bremer and Kehl added three.
BJHS faced and defeated a scrappy Xavier Middle School squad in the championship match (25-9, 25-20) and claimed the title for the fourth-straight season. Shawley cited Carlyn Cole and Erica Petry for their outstanding passing and Taylor Maxwell who served 91 percent for the tournament.
"I am so proud of this team and how they responded by playing very competitively all day. It's sometimes a challenge to play four matches in a day, but this only gets us more prepared for when the league tournament rolls around in October," said Shawley.
On Monday, all four squads played Pioneer Ridge. The seventh-grade junior varsity (7-6) lost both matches (18-25, 19-25 and 22-25, 11-25); the seventh-grade varsity (8-6) lost both contests (21-25, 19-25 and 25-23, 22-25, 19-25).
The eighth-grade junior varsity (9-5) won both matches (25-12, 25-23 and 25-14, 21-25, 25-22). Natalie Bostwick served a perfect 12 for 12 in match one, while Amy Pouliot added 11 for 11 at the line. Baldwin's eighth-grade varsity (9-5) finished the evening with a split with Pioneer Ridge (25-9, 25-20 and 19-25, 23-25). Bremer had a season-high 16 serving aces as she connected on 27 of 28 serves in both matches, while Kehl led the team with five kills. Meghan Strobel, Maxwell and Cole all were 100 percent from the service line, as well.
Next action for the Bulldog volleyball squads will be on Saturday. Baldwin will host the seventh-grade junior varsity Frontier League Tournament with matches starting at 9 a.m. The eighth-grade junior varsity Frontier League Tournament will be played at Eudora Middle School, also starting at 9 a.m.